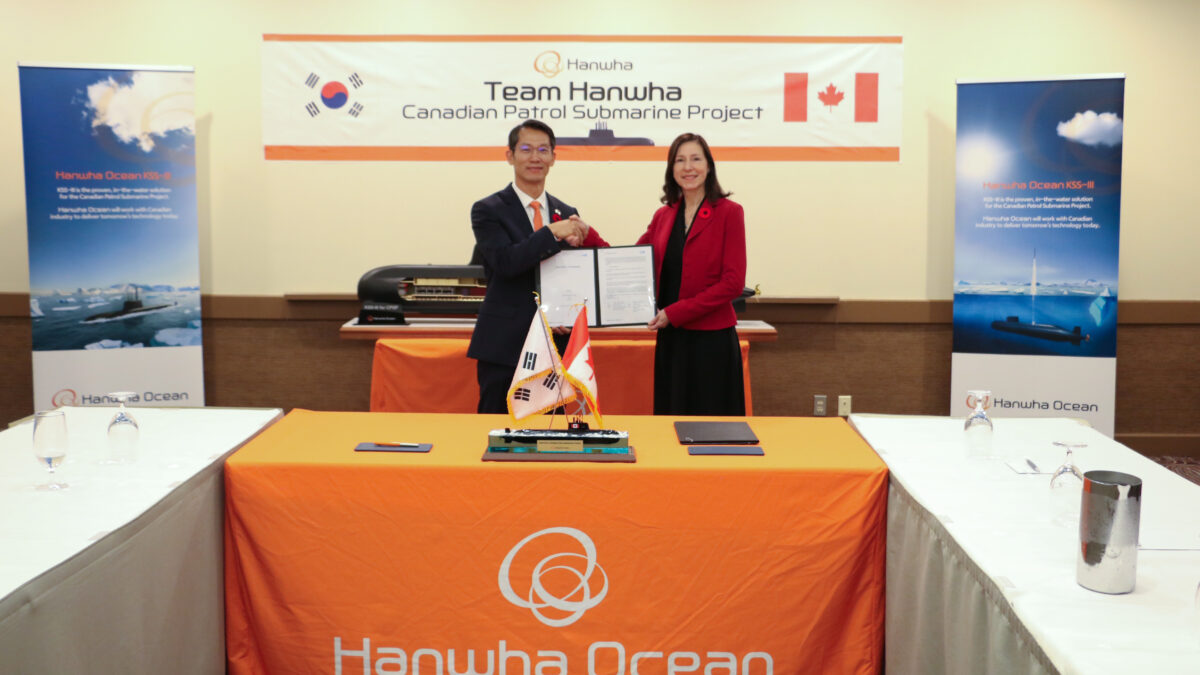 CAE, Modest Tree, Des Nedhe Group and J Squared Technologies join Team Hanwha for Canadian Patrol Submarine Project
Hanwha Ocean of Korea announced in Ottawa on November 3 the signing of Memorandums of Understanding (MOUs) with four distinguished Canadian partners for long-term collaboration on the Canadian Patrol Submarine Project. These partnerships mark a significant milestone in the journey to enhance the Royal Canadian Navy's capabilities and support the Canadian maritime defense sector.
"We see significant opportunities for synergies between Hanwha Ocean and these Canadian partners – CAE, Modest Tree, Des Nedhe Group and J Squared Technologies. With the signing of these MOUs, Hanwha can begin developing strategic relationships with these partners, which will also enhance and strengthen the relationship between Korea and Canada," expressed Sung Kyun Jeong, Senior Executive Vice President, Head of Naval Ship International Business, Hanwha Ocean.
The MOUs are as follows:
Hanwha Ocean has been at the forefront of submarine technology and construction, delivering the KSS-III (also known as Jangbogo-3) to the Republic of Korea Navy starting in 2021. The Jangbogo-3 is recognized as the only in-service platform that meets the Royal Canadian Navy's operational requirements and timeline for the Canadian Patrol Submarine Project.
With a history dating back to 1973, Hanwha Ocean has earned its reputation as one of the world's premier shipbuilders and offshore contractors. The company specializes in the design and construction of a wide range of naval and commercial vessels, including submarines, destroyers, container ships, tankers, and offshore platforms.
For more than 40 years, Hanwha Ocean has been dedicated to building and servicing submarines for the Republic of Korea Navy and other global navies. The successful delivery of the KSS-III to the Republic of Korea Navy in 2021 solidified Hanwha Ocean's position as the world's most capable, in-operation, ocean-going, diesel-electric submarine provider.
Hanwha Ocean is a vital part of Hanwha Group, Korea's 7th largest company and the largest defense company in Korea, ranked as the 12th largest defense company globally. Hanwha Group operates with over 52,000 employees worldwide and 91 subsidiaries, emphasizing its commitment to innovation and excellence in the defense industry.
CAE, one of the partnering organizations, is a technology company that empowers individuals in critical roles with expertise and solutions to create a safer world. Their focus on digitalizing the physical world, deploying software-based simulation training, and offering critical operations support solutions ensures that pilots, cabin crew, defense and security forces, and healthcare practitioners perform at their best even in high-stakes situations.
Modest Tree, another collaborator, is an award-winning integrated digitalization company that specializes in providing modeling, training, and simulation solutions for Original Equipment Manufacturers (OEMs). Their solutions leverage immersive technologies and digital solutions for in-service support, serving Fortune 500 OEMs and defense leaders.
The Des Nedhe Group, an Indigenous-owned business born out of the English River First Nation, is dedicated to creating sustainable employment and business opportunities for Indigenous community members. Today, it stands as a national leader in Indigenous entrepreneurship and economic development, shaping lasting change in Indigenous communities and corporate supply chains across Canada.
J Squared Technologies, the final partner, is renowned for its ruggedized embedded electronic solutions, product lifecycle management, and in-service support. With over 30 years of experience, they excel in delivering operationally demanding performance requirements across various industries, including defense, mining, rail, aerospace, and marine.
The collaborative efforts between Hanwha Ocean and these Canadian partners highlight a commitment to enhancing maritime defence capabilities, promoting economic sustainability, and strengthening relationships between Korea and Canada.
"We look forward to working with Hanwha Ocean on the Canadian Patrol Submarine Project. Partnering with a company like Hanwha on a proven platform like the Jangbogo-3 is a great opportunity for all of our businesses to expand into a new market."
Emily Smits, CEO of Modest Tree; Sean Willy, President & CEO, Des Nedhe Group; Tom Kelley, COO, J-Squared Technologies.
Related posts