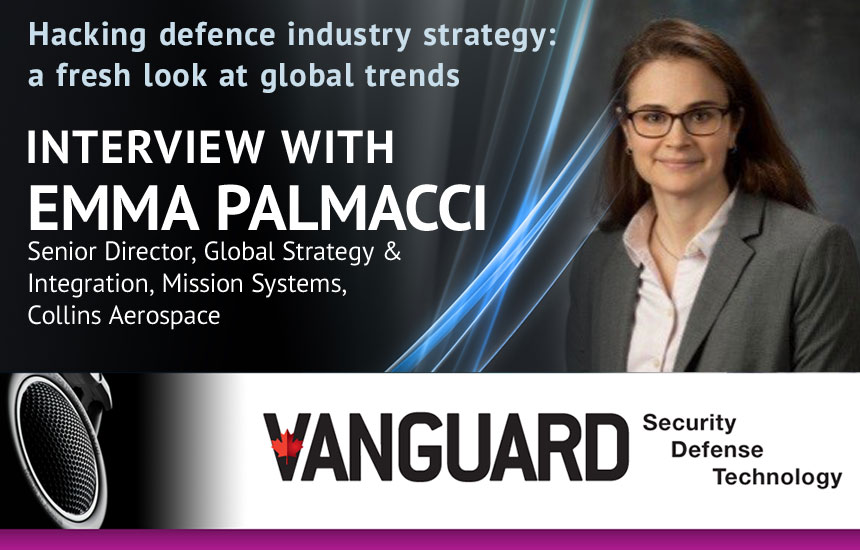 Hacking Defence Industry Strategy: A Fresh Look at Global Trends
Vanguard Staff, March 21, 2022
1 min

read
1811
In the episode of Vanguard Radio, J. Richard Jones speaks with Emma Palmacci PhD – Senior Director, Global Strategy, Mission Systems, Collins Aerospace. Tune is as they talk about industry strategy and global trends. As part of its contribution and commitment to Department of National Defence's MINDS program, Collins Aerospace teamed up with Carleton University's Norman Paterson School of International Affairs, with the support of MITACS, to conduct a 2.5-year long research endeavor on the Impacts of Emerging Technology on Defence Policy. This joint effort supported the professional growth of graduate level interns – the next generation of defence experts – for a period ranging from a few months to the full duration. The project examined key emerging technologies, interoperability, connectivity, C4ISR and connected battlespace capabilities.
In this episode:
How international customer behaviours have been evolving over the last few years
What are the main drivers of C4ISR capability development?
What are the emerging technologies with disruptive impacts?
What are the lessons learned around the world?
Why collaboration between industry and government is increasingly important?
And more!
Related posts