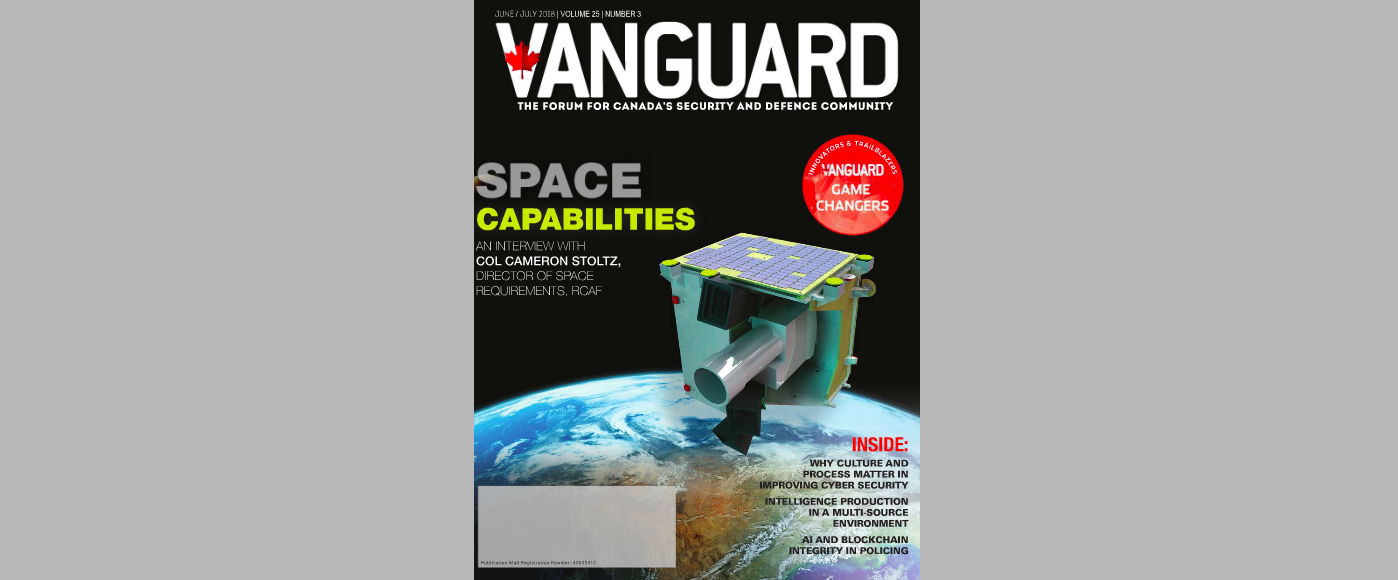 Editor's Note: June/July 2018
Terri Pavelic, July 9, 2018
0
3 min

read
361
At the time of writing, I just returned from CANSEC 2018. At the event, I had the opportunity to engage with some key leaders from industry and military. During our many discussions over the two days, we had some intriguing and fascinating conversations as it relates to defence and security. With the high expectation from news coming out from government, the Canadian Armed Forces is poised to move to a higher level with leading-edge technologies and equipment to serve the needs of Canada.
The many conversations helped me to lay the groundwork for building the programs for next year's Ship Technology Forum and C4ISR and Beyond events. I am excited to announce that we have already reserved the date of January 30, 2019, for the C4ISR and Beyond event at the Shaw Centre and currently working on finalizing the location and date for the Ship Technology event. Stay tuned to Vanguard as we will be rolling out the agendas over the next few months.
For this issue, we're happy to share with you an interview with Col Cameron Stoltz, Director of Space Requirements, Royal Canadian Air Force. In this piece, he talks about the acquisition of space capabilities, Surveillance of Space 2 (SofS 2) program, Enhanced Satellite Communications Project – Polar (ESCP-P) project, how the CAF plans on integrating the RADARSAT Constellation Mission (RCM) into future missions and collaboration with Five Eyes.
Ugurhan G. Berkok from the Queen's University expands on what he previously wrote in the April/May 2017 issue of Vanguard on the UK's PPP (Public Private Partnership) capabilities and, in particular, on their multi-role tanker capability. He delves into the Voyager program where the AirTanker consortium provides Royal Air Force (RAF) with strategic air transport, air-to-air refuelling capabilities and VIP transport.
As technology continues to advance, LCol Ronald Roach (Ret'd), writes in his piece that it is in the best interest of the Canadian Intelligence community to adopt an active approach to prepare for the emergence of new ideas and tools. He points out that we are well into the "digital age" and have yet to seriously revamp the processes, organizations and structures that were developed to support warfighting in the nuclear and space ages.
Mike Stone, Global Head of Technology Transformation for Infrastructure, Government and Healthcare, KPMG International, returns with his second installment of his series on Cyber Defence in Depth. He writes about how when organizations consider cyber security, they usually focus most of their attention on technology, but that is just 20 per cent. Learn more about the different areas that organisations need to keep their eyes on for cyber security.
Our Game Changers for this issue are: Dr. Francis Dubé, Director, Zenyatta Ventures Ltd.; and Erinn van Wynsberghe, President & CEO, VanWyn Aerospace Logistics. Read about how these leaders are blazing the way in their respective fields as they innovate and lead their companies with game changing results.
I hope you enjoy reading this issue.
This piece first appeared in Vanguard June/July 2018 issue. To view the entire issue, go here.
Terri Pavelic
With over 20 years of publishing experience, Terri oversees the editorial, marketing and social media strategies of Vanguard. She serves as Editor-in-Chief and specializes in brand strategies and effective implementation, as well as content leadership development.
Related posts