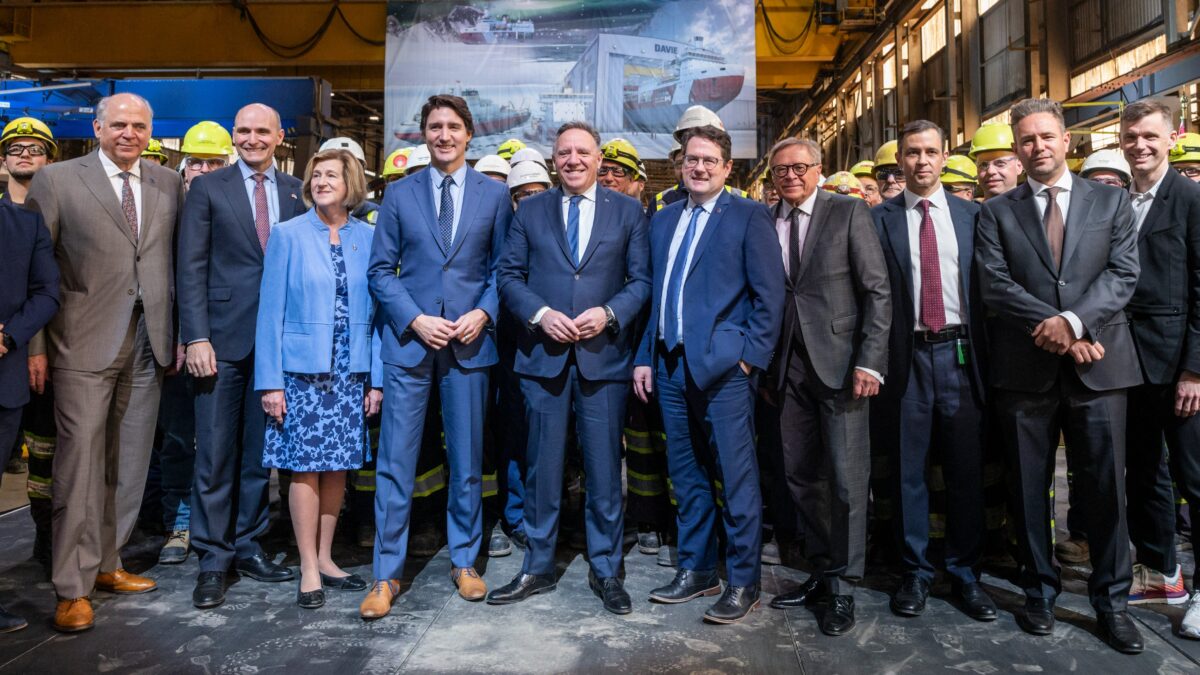 Recently, Prime Minister, Justin Trudeau, announced Chantier Davie of Lévis, Quebec, will be the third strategic partner under the National Shipbuilding Strategy (NSS). The agreement between the federal government and Chantier Davie thus marks the beginning of negotiations for contracts that will support Canada's future shipbuilding needs while also creating good jobs. Construction projects will include six program icebreakers and one polar icebreaker for the Canadian Coast Guard. These ships will play an essential role in the growth of Canada's economy, supporting year-round marine trade, and will serve as essential platforms for search and rescue and environmental response operations.
"Today's announcement is bringing us one step closer to building the fleets for Canada's future. Our strategic partnership with Chantier Davie will help ensure our Coast Guard is supported by modern, made-in-Canada vessels so it can continue to save lives, keep our waters secure, and protect the environment. This will also help strengthen Canada's world-class marine industry and create good middle-class jobs, right here in Quebec," said the Rt. Hon. Justin Trudeau, Prime Minister of Canada
Canadians rely on the Canadian Coast Guard and the Royal Canadian Navy to keep waters safe at home and abroad while also responding to emergencies, protecting the environment, and supporting the flow of Canada's economy. This is exactly why the Government of Canada is working hard to renew our federal fleets and revitalize the shipbuilding and marine industry across the country.
"Today's announcement is fantastic news for our shipbuilding industry. Through the National Shipbuilding Strategy, we are creating opportunities for workers and businesses across Canada – and ensuring that the Canadian Coast Guard and Royal Canadian Navy have the tools they need to do their jobs and protect our country. We will continue to make the necessary investments to deliver modern equipment to our people in uniform, all while creating good jobs for Canadians," expressed the Hon. Anita Anand, Minister of National Defence
The agreement with Chantier Davie is consistent with the recently released Budget 2023—A Made-in-Canada Plan: Strong Middle Class, Affordable Economy, Healthy Future. This budget has a strong focus on building a made-in-Canada clean economy in a free and stable democracy while supporting Canadian workers and manufacturers.
James Davies, President and CEO, Chantier Davie Canada Inc. had this to say,
"This historic agreement puts the 'National' in National Shipbuilding Strategy. The federal government deserves much credit. Together, we will bridge a strategic shipbuilding gap and create guaranteed capacity for future fleet renewal at Canada's largest shipbuilder. It is an acknowledgement of everything Davie has achieved over the past decade, our expertise, and the quality of our Quebec-based workforce. We can now get to work delivering the icebreakers Canada urgently needs to meet its growing responsibilities as an international Arctic presence, while fulfilling its critical southern wintertime mission to keep our economy flowing. We also commend the Government of Quebec for supporting our journey to become one of the world's most advanced shipbuilding facilities. The NSS will be a springboard to create an internationally competitive shipbuilding hub in Quebec. We will generate and showcase Quebec innovation and talent as we build cutting-edge ships, which are in high global demand."
As we continue to adapt to the ongoing growth of commercial shipping and and the increasing impacts of climate change on our communities this announcement is an important step in the government's ongoing efforts to ensure Canada has the modern and reliable ships it needs. It also ensures opportunities for workers and businesses in Canada's marine industry while simultaneously ensuring the members of the Canadian Coast Guard and the Royal Canadian Navy can continue to carry out their important work in the years to come.
Related posts