Canada's Second Arctic and Offshore Patrol Ship Launched
Marcello Sukhdeo, November 20, 2019
0
2 min

read
341
A few days ago, Canada's second Arctic and Offshore Patrol Ship (AOPS), the future HMCS Margaret Brooke, was launched at Irving's Halifax Shipyard.
Irving Shipbuilding was contracted by Canada to build six AOPS for the Royal Canadian Navy as part of Canada's National Shipbuilding Strategy (NSS). The first AOPS, the future HMCS Harry DeWolf, is in the last stage of construction and will begin sea trials at the end of November. 
On November 8, the future HMCS Margaret Brooke was moved from Halifax Shipyard's land level facility to a submersible barge where it was launched into the Bedford Basin two days later. The 103-metre ship is now pier side at Halifax Shipyard where work will continue in preparation for sea trials and to be handed over to the RCN later next year.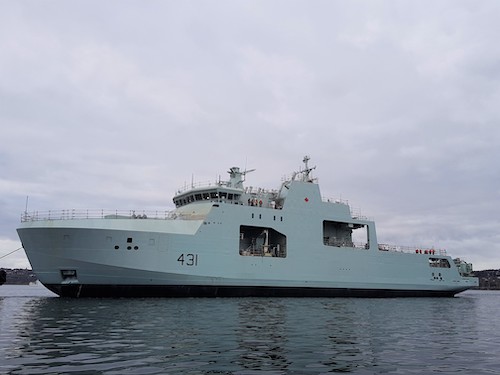 As work is continuing on the first two AOPS, the third and fourth AOPS – the future HMCS Max Bernay and the future HMCS William Hall – are under construction as well inside Halifax Shipyard's facilities. The future HMCS Max Bernay first two major sections are scheduled to be moved outside in spring 2020.
Over the next 20 years, Irving Shipbuilding will construct a total of eight AOPS, six for the RCN and two for the Canadian Coast Guard, as well as 15 Canadian Surface Combatants for the Navy. These contracts are apart of the NSS to replace the aging current surface fleets of the Navy and Coast Guard.
"It is exciting to have two Arctic and Offshore Patrol Ships in the water and closer to being in use by the Royal Canadian Navy's sailors," said Kevin McCoy, President, Irving Shipbuilding.
Related posts