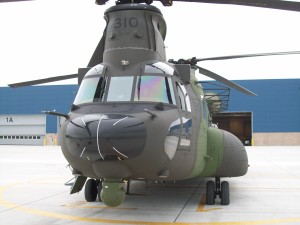 Boeing delivers Chinook maintenance training devices
vanAdmin1, January 12, 2015
0
1 min

read
299
450 Tactical Helicopter Squadron recently took delivery of new maintenance training devices.
In a press release this week, Boeing said it had provided the Chinook Maintenance Trainer to the medium-to-heavy lift training center currently under construction at Garrison Petawawa.
The system includes a complete airframe and an interactive display that will help technicians build experience through various scenarios. Boeing also delivered six training aids focused on specific items including aircraft wiring and fuel tank maintenance.
The training system follows delivery of the final of 15 CH-147F Chinook helicopters in June.
"Boeing's training helps prepare our customer to meet a wide range of operational requirements," said Tony Barnett, Boeing project manager for Canadian Chinook training systems program. "This training suite complements a very capable CH-147F aircraft and will permit the RCAF to accomplish their near-term operational missions."
For an interview with 450 Squadron commander, Lieutenant-Colonel Chris McKenna, on the capability of the Canadian F-model Chinook and his training approach, see: https://vanguardcanada.com//rise-of-the-battalion-chinook-helps-transform-tactical-aviation/
Related posts