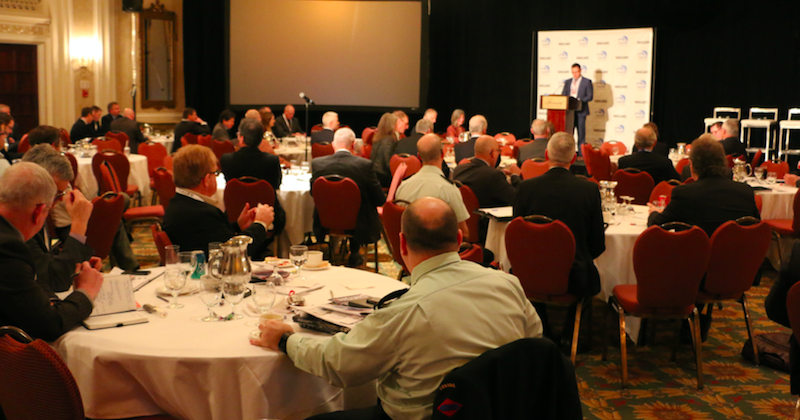 A recap of C4ISR and Beyond 2017
Marcello Sukhdeo, February 7, 2017
0
2 min

read
320
On February 2, just under 150 attendees from the defence and security community in Canada gathered at the Fairmont Chateau Laurier for the 3rd annual C4ISR and Beyond event.
The event was opened by BGen Francis Allen, Director General of Cyberspace who spoke about the C4ISR roadmap that is currently being developed to address risks and vulnerabilities. She went on to add that the roadmap draws on all data and is not just for capital projects but also incorporates the need to create a business and operational model to support what needs to be done.

MGen David Wheeler took the stage in presenting the Luncheon Keynote and spoke about targeting and how that is evolving. He went on to point out how social media is critical to the work of the CAF but it is also difficult to control as terrorist organisations and other hostile nations are fighting with information.
C4ISR and Beyond 2017 in pictures
[smartslider3 slider=2]
Click on the arrow to slide to the next image
Panel discussions were held on interoperability and how training and education are essential in operating C4ISR systems, battle management system approach, space as a force enabler, Arctic intelligence and surveillance, cognitive domain, joint targeting cycle, and how cyber runs under everything.
Here is a snapshot of tweets from the day.
We rely on cyber networks and that reliance creates vulnerabilities. #C4ISRBEYOND

— Vanguard (@VanguardMag) February 2, 2017
Cdr. David Anderson speaking on how our C4ISR systems must provide the right people, right information at the right time. #C4ISRBEYOND

— Vanguard (@VanguardMag) February 2, 2017
Education is important, we need to educate offices on ISR. LCol. Greg Jensen (Ret'd) #C4ISRBEYOND

— Vanguard (@VanguardMag) February 2, 2017
Space is a force enabler. We are all reliant on GPS. Col. Jeff Dooling, DSR #C4ISRBEYOND pic.twitter.com/kIDbyoBLSQ

— Vanguard (@VanguardMag) February 2, 2017
Are there emerging or disruptive technologies? We want to know about them. John Weaver, Section Head, Space & ISR Apps, DRDC. #C4ISRBEYOND

— Vanguard (@VanguardMag) February 2, 2017
Social media is critical in what we are doing but also difficult to control. MGen Wheeler. #C4ISRBEYOND pic.twitter.com/rYmzZpaLZ2

— Vanguard (@VanguardMag) February 2, 2017
Big data is data that is too diverse, too fast changing for our tech skills to handle. Cdr. Daniel Landry (Ret'd). #C4ISRBEYOND

— Vanguard (@VanguardMag) February 2, 2017
We can't wait for 7 years before we get a solution. We all need to work together. Sophie Martel, Senior Director, DIMEI #C4ISRBEYOND pic.twitter.com/ltmi60vUZH

— Vanguard (@VanguardMag) February 2, 2017
Cyber security is a team effort. We are short of team members. John Proctor, VP Cyber Security, CGI. #C4ISRBEYOND.

— Vanguard (@VanguardMag) February 2, 2017
A BIG thank you to our sponsors. #C4ISRBEYOND pic.twitter.com/xiKXgTrAee

— Vanguard (@VanguardMag) February 2, 2017
Related posts