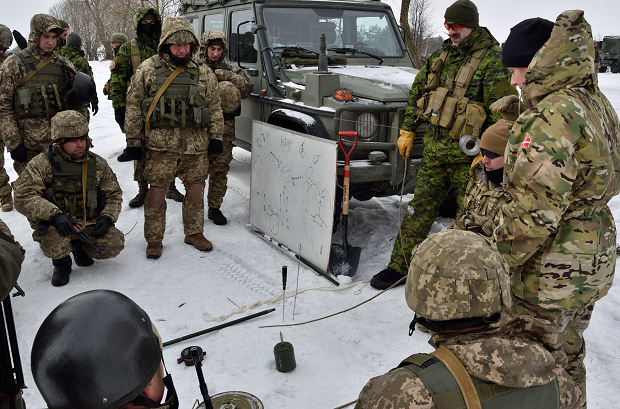 200 Canadian troops head for Ukraine
Stewart Downing, February 14, 2017
0
2 min

read
366
It remains uncertain how long some 200 Canadian soldiers from the 1st Battalion, Princess Patricia's Canadian Light Infantry based in Edmonton heading this month for Ukraine will be staying in the Eastern European country which shares its border with Russia.
Since 2015, Canadian, American and British troops have been deployed on rotation to Ukraine to the country's soldiers after Russia annexed nearby Crimea in 2014. So far, Canadian soldiers have trained some 2,600 Ukrainian soldiers in weapons use, military maneuvers, field medical procedures, explosives disposal, and others, as part of Operation Unifier.
Since January 2014, the Government of Canada has announced more than $700 million in additional assistance to Ukraine, including a broad range of initiatives to strengthen security, promote economic stability and growth, advance democracy, human rights, rule of law, and to promote a civil society.
Related content
Sajjan, Mattis meeting 'cordial', questions raised about NATO, peacekeeping
Op Unifier turns the page on a busy year of training Ukrainian Armed Forces
Trudeau revamps Canada's NATO missionAUG31
Making Canada's role in NATO more effective
Canada's assistance to Ukraine includes the purchase and shipment of non-lethal military equipment. This includes the ongoing process of procuring and shipping specialized equipment such as tactical communications systems, a mobile field hospital, explosive ordnance disposal equipment, tactical medical kits, and night vision goggles. This type of equipment is helping to enhance the capabilities of the Ukrainian Armed Forces.
The contingent from Edmonton will relieve their troops from CFB Shilo who have been training Ukrainian soldiers since August. The Ukrainian government has asked for an extension of the mission but so far there has been no decision from the Canadian government.
Operation Unifier is Canada's contribution to support Ukrainian forces through capacity building – but the operation is scheduled to end on March 31st of this year and it is not yet known if the mission will be extended after that.
Meanwhile, Ukraine continues to be gripped by civil conflict brought about by Russian-backed rebels. The battles, concentrated on its eastern border with Russia, have claimed the lives of more than 10,000 people since its inception in 2014.
Related posts