Training and Simulation in military and defence is in constant evolution mainly due to advancements of technologies that can be adapted from adjacent markets. Training and Simulation is an integral part of military training and we are hearing more and more about Technology Enabled Learning and its potential benefits.
As a backdrop, digital transformation is progressing and still requires structural changes. Artificial Intelligence (AI) is not a buzz word anymore and efforts are being deployed to harness it so it can be applied to military training. In addition, many organizations are often in awe when they are presented with nice, fully textured 3D rendering of a piece of equipment in a Helmet Mounted Display (HMD) and navigated through the equipment. This combination of technologies is often seen as the nirvana of training and too often overlooks the most important consideration – the value to the training outcome.
It must be understood however, that in the military and defence training domain, the introduction of new technologies is not as straight forward as it may seem. Training must be very structured and must follow a very strict development methodology. In addition, for each new platform, Qualification Standards must be defined, and a rigorous Training Needs and Training Media Analysis must be conducted in a very early phase of a long (15-20 years) program. Technology obviously has a much shorter evolution cycle.
These challenges can be overcome with a clear innovation strategy that will encompass the program phases and achieve the objectives of Technology Enabled Learning. Such strategy though, must have an adapted procurement vehicle to enable the insertion of new simulation equipment for example, within an existing training continuum. This means that there must be flexibility to adapt the Qualification Standard and re-adjust the training plan and have a more continuous technology introduction methodology, in addition to big bang mid-life upgrades.
Emerging Technologies
In military training and simulation, there are new technologies emerging that could increase training effectiveness and proficiency. Virtual reality (VR), to augmented reality (AR) and mixed reality (MR), training solutions offer a fully immersive experience with seamless blending of real and virtual. These technologies are now more and more accepted as viable solutions to complement higher fidelity synthetic and live training. The industry is moving toward 4K ultra-high-definition screen and there are emerging technologies with improved foveal renderings that would allow systems to track a user's eye movements and provide much higher resolution in specific areas of visual focus, rather than across the entire display.
In addition, new advances in AI algorithms and deep learning offer a multitude of potential usages to bring the training experience even further. This is to create a seamless experience between the warfighter and the training systems. Game-based Learning techniques are being improved to use AI to complement instructors to maximize throughput while improving retention among our trainees. Leveraging advanced game engine technology, fully interactive environments can be adaptive to adjust pacing based on a trainee's performance and individual needs.
Technology like AR, VR and MR are providing the military with lighter, more agile and flexible training solutions. Combined with fifth generation mobile systems (5G), it could have a number of potential military applications, particularly for C4ISR systems training which would benefit from improved data rates and lower latency (time delay). As 5G could reduce latency in other data-intensive activities, it will enhance augmented or virtual reality training environments, for example for richness of virtual content and for quick head movements that can result in motion sickness.
Military Training Environment
For a long time, training has been treated as an afterthought and as a necessary burden. Fortunately, this trend has changed as more and more the focus is on increasing throughput, efficiencies and increasing the quality of systems. It is accepted now that the above objectives can be met by adopting new technologies. This includes Technology Enabled Learning (TEL) which is now part of the training strategy.
More and more commercial-off-the-shelf (COTS) equipment is being used in integrated training systems for improved performance, quality and cost effectiveness. Most of the COTS equipment is coming from or is heavily influenced by the gaming and mobile industry which evolve at an extremely rapid pace relative to the military training domain. Typically, COTS equipment's performance almost doubles every year. While the performance improvement is welcome, it must result in actual training benefits in an environment where training programs are meant to have a very long-term duration.
What is observed is that this situation brings opportunities but also brings confusion as many organizations would prescribe training solutions only based on the last impressive demonstration of a technology and believe that such technology would bring unrealistic benefits. On the other extreme, we still encounter requirements imposing large visual projection bowls for programs that will be executed not before the next three to five years at least. The two main problems are that the expected training outcome is not well articulated and there is seemingly, no methodology to measure the expected benefits.
Back to Basics
The most important success factor which is sometimes overlooked in any training and simulation technology introduction is the expected training outcome. This may sound obvious, but it must be constantly repeated. The real challenge is how do we demonstrate effectiveness of new technology enabled training if we do not know what to measure and if presently, there is no objective measure. Today in the individual training process, trainees are still mainly qualified operationally through on the job training, live and check rides by an experienced instructor even if advanced Learning Management Systems exist.
We also have a tendency to define flight training as pilot training in particular, without recognizing that similar currency and mission requirements exist for the rest of the flight crew and other crews, such as in tactical or armored vehicles. Similar cost and efficiency savings that moved military training into flight simulation has not been realized for the rest of the crew, despite the focus on 'crew' level training. New simulation technologies must be applied to crew members, other than just the air domain and just pilots, to get the full benefit of Technology Enabled Learning.
Before selecting any new technology, the first question should be how this new technology will improve or achieve a better training outcome. The ideal way is to ensure that we can provide supporting data to prove improved effectiveness and proficiency through performance measurements. Future of training should not just be about the VR and other fancy, shiny piece of technology, but should come with a complete environment that can help the collection of selective performance data that will inform training development and also improve personalization of training. Only when there will be consistent performance data and continuous data gathering, could Data Analytics or AI really be effective. The emerging technologies mentioned above will enable this.
Performance measurements can be achieved, and real time feedback and objective assessment can be provided along the training continuum.
Performance Measurement Examples
For the vast majority of rear crew operators responsible for everything from combat search and rescue to humanitarian relief and utility operations, the first time they face adverse or complex conditions is live, thereby translating operational risk, increased cost and lower proficiency levels to the use of precious flight hours. As a result, 'high risk, low repetition' tasks get practiced the most infrequently contrary to training in any other domain. There is available technology that enables advancement in (rear) crew training and new development that outlines the research being done to quantify the variables affecting mission performance and the outcomes as compared to traditional training methods.
Bluedrop Training & Simulation launched the Integration of Mission Performance Analytics in Courseware, Training and Simulation (IMPACTS). The new R&D project in collaboration with academia to integrate the new simulation equipment within the training continuum using an xAPI interface of a Learning Management System (LMS) to collect performance data allowing analysis of mission performance. The data capture of the project will facilitate the determination of performance trending and allow management of trainee and crew outcomes for adaptive training design using the Mission Anti Rollover Gunnery Simulator (MAGS). This project will hopefully demonstrate the full capability of an LMS when integrated with training systems. It will pave the way to true performance-based training. Performance-based training focuses on specific outcomes and then sets expectations, provides feedback, introduces tools, rewards skill development, teaches new skills and knowledge, etc. – all aimed at supporting behavior that produces the desired outcome.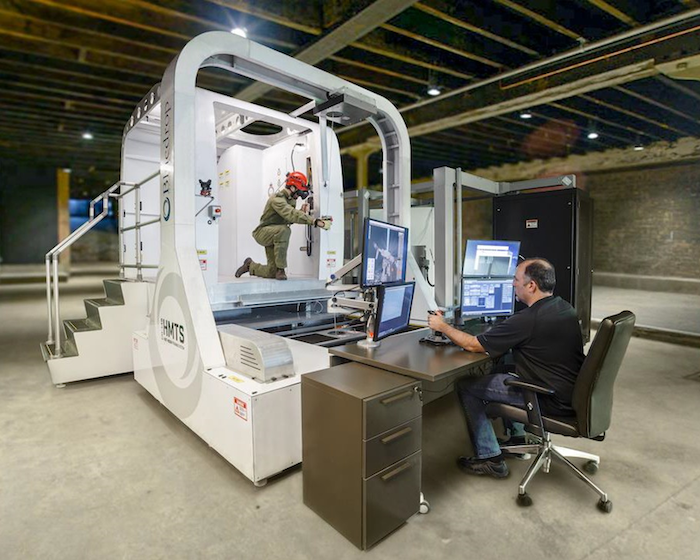 The Mission Anti Rollover Gunnery Simulator (MAGS) designed and built by Bluedrop is a Crew Mission Training for the TAPV and other three or four crewmen platforms. It is a vehicle based immersive mission trainer on a 6 DOF motion platform for anti-rollover and gunnery mission training. Used primarily for immersed crew and crew/patrol commander training, this device enables collective training amongst multiple networked simulation devices for a full battlefield mission experience.
On another project in collaboration with RCAF and Memorial University of Newfoundland, the Hoisting in Simulation Performance Measurement & Analytics is performed using the newly introduced Hoist Mission Training System (HMTS). The objective is to provide performance evaluation using Maritime Helicopter Utility Course to compare trainees who have had training with simulation on the HMTS to those that have not and evaluate their performance on a check ride. In another testing stream, we are identifying what defines effective hoist operations. The data compares novice trainees and expert operators to determine what variables are most important in mission outcomes, allowing the development and incorporation of algorithms into adaptive training design. The goal is to be able to provide real time, objective feedback to the trainees for increased proficiency and operational readiness faster, thus resulting in an improved trainee throughput.
Emerging technologies are offering a spectrum of opportunities to improve training. However, the focus must not be on technology alone but on defining the required training outcome first. Programs will need to adapt to the fast pace of technology evolution to take full advantage of continuous performance of COTS technologies. Finally, new development must also be focused on providing the infrastructure that gives performance measurement capabilities integrated within a Learning Management System to achieve true performance-based training. Only then can Data Analytics and AI be fully leveraged.
Jean-Claude Siew is the Executive Vice President for Technology and Simulation for Bluedrop Training & Simulation Inc. Jean-Claude has profound domain knowledge of training and simulation and technology leadership. At Bluedrop, he is focused on the company's growth and on bringing innovative solutions and on developing and introducing leading-edge training products for Aerospace and Defence.