The seventh highly anticipated annual ShipTech Forum is in full throttle with speakers, agenda and other finer details being confirmed for the February 25th event in Ottawa.
ShipTech Forum is a one-day conference that provides a platform to showcase emerging technologies in shipbuilding, addressing marine and shipbuilding challenges, ship repair and the advantages they provide for growth and export.
This event facilitates meaningful dialogue between industry, government, and military to provide stakeholders with the knowledge and share lessons learned from a technological perspective to showcase successful investments in cutting-edge technologies.
The forum will be attended by executives in government, military, and industry and will feature leading speakers from the Canadian Coast Guard, Royal Canadian Navy, shipbuilding and maritime industries. "Personnel from the CCG, RCN, DND and other governmental agencies along primes, suppliers, SMEs, and consultants have attended in the past and some have already signed up for ShipTech Forum 2020," said Terri Pavelic, Editor-in-Chief of Vanguard. "This is a great opportunity to take advantage of the many insightful sessions planned for the day."
Those attending will hear about unique and innovative shipbuilding technology solutions that can make maritime operations more effective, mobile and independent.
"The forum will offer attendees networking opportunities throughout the day to interact with peers and experts from military, government and industry," said J. Richard Jones, Vanguard Radio Host, and Publisher of Vanguard. "We aim to continue the tradition of providing our readership with extraordinary event experience, to compare notes with each other and have tangible takeaways to enhance their work."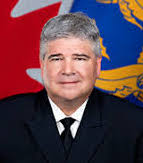 ShipTech Forum also provides the opportunity for vendors to reach and engage with stakeholders in this much wider pool through pre-marketing initiatives, branding, and post-event marketing strategies. "It's an event that provides an ROI for both the attendees and vendors in a unique setting that facilitates many different learning outcomes," added Jones.
The keynote address at this year's event will be presented by Mario Pelletier, Commissioner of the Canadian Coast Guard.
ShipTech Forum 2020 will take place at The Westin in Ottawa on February 25th. To learn more and to register, go to https://vanguardcanada.com/shiptech2020.