At the beginning of each year, Vanguard has been offering the defence and security industry in Canada an unrivalled experience within the C4ISR context. Through this unique opportunity, members of the military, government, and industry get together in one room to discuss the challenges, developments, and accomplishments within the Canadian C4ISR setting. This one-day event is designed to bring to the forefront the emerging technologies that are coming into play. 
The 2020 C4ISR and Beyond event will take place on January 28 at The Westin in Ottawa. Below is the preliminary agenda.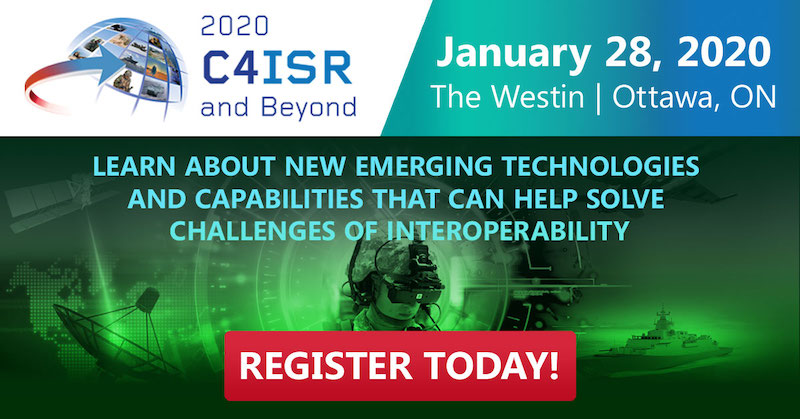 C4ISR and Beyond 2020 Preliminary Agenda
7:00 – 8:10 Registration, Breakfast & Networking
8:10 – 8:15 Welcome Speaker – Terri Pavelic, Editor-in-Chief, Vanguard
8:15 – 8:45 Opening Keynote – Brigadier General David Anderson, Director General Readiness, Canadian Joint Operations Command
8:45 – 9:45 Panel 1 – The legal, intelligence and ethical perspectives of surveillance with a focus on the associated opportunities and challenges.
Moderator:
Panelists:
Jessica Davis, President & Principal Consultant, Insight Threat Intelligence
Leah West, Lecturer of International Affairs at the Norman Paterson School of International Affairs at Carleton University
Stephanie Carvin, Assistant Professor of International Affairs – National Security Issues, Terrorism, Critical Infrastructure Protection, International Law, Humanitarianism, Foreign Policy
9:45 – 10:15 Presentation – Demand-Driven Innovation, The IDEaS Program – Eric Fournier, Director General Innovation, IDEaS, DND
10:15 – 10:45 Networking Break
10:45 – 11:45 Panel 2- Digitization driving business and operational process for the CAF
Moderator:
Christiana Cavazzoni, ADM DIA, Director General Data Strategy And Innovation at National Defense
Panelists:
Michael Daly, CTO, Cybersecurity and Special Missions, Raytheon Company Intelligence, Information & Services
11:45 – 12:45 Lunch
12:45 – 1:15 Luncheon Keynote
1:15 – 2:30 Panel 3 – How the Air Force, Army, Navy and SOFCOM convert tactical data into operational effect
Moderator:
Col Richard Fawcett (Ret'd), Director of Business Development, Land and Joint Solutions, GDMS 
Panelists:
Maj Jason Furlong, Project Director, RPAS, Drectorate of Air Requirements 8, Royal Canadian Air Force
CaptN Sheldon Gillis, Director Naval Requirements, Royal Canadian Navy
Col Yannick Lemieux, Director Land Command Information, Canadian Army
Col Earl Vandahl, CD, Director Force Development, CANSOFCOM
2:30 – 3:00 Networking break
3:00 – 4:00 Panel 4 – Multi-level security in an era of multi-domain operations, balancing the needs of intelligence and tactical surveillance
4:00 – 4:05 Closing
4:05 – 5:00 Reception
5:00 – 7:00 WiDS Reception
To attend this one-day event, register today.