With almost four decades in the industry, of which the last 27 years have been with Galaxy Broadband Communications Inc., Rick Hodgkinson has accumulated a mountain of knowledge and experience in satellite communications.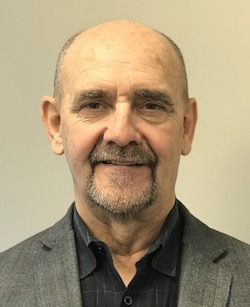 Originally from Northern Alberta, about 500 kilometers north of Edmonton, Hodgkinson started a business of providing satellite communications to drilling rig camps working in remote areas. The areas were so remote that even AM radio station reception was scarce.
"We would install a satellite system at one of these locations and connect them to the world, which was very much appreciated," said Hodgkinson. "I got the bug when I saw what a difference our service meant to people, to morale, and to productivity. Our crews were treated like gods."
He went on to explain that living and working in remote areas of Canada, one tends to be informed as to their communication options because they depend on them. "You understand the need because you deal with the consequences of not being able to access 'big city' type infrastructure or services every day and the effect it has on your life and business," he said.
After seeing the opportunity to grow his business across Canada, Hodgkinson said he was confident that he knew enough about satellite communications to make a difference. Today, he holds the title of founder, president, and CEO of his company.
Due to the enormous work and success within the satellite communications industry, Rick Hodgkinson was selected as a Game Changer for the December/January 2020 issue of Vanguard. Here's the full interview with him.
What is your role at the organization today?
My role is to make sure our organization delivers on promises and continues to make a difference.
What was your most challenging moment?
Internet via satellite is our primary business, and when one of our satellites had an anomaly in space, it was extremely tense for several hours. Our customers depend on our service being reliable for business-critical applications, so when something like this happens, you feel helpless because there is nothing you can do. This satellite is 40,000 kilometers above the equator – so not very easy to stop by and repair. Thankfully, the incredible engineers at Telesat Canada solved the problem, and our customers were back online within a few hours. The lesson learned was to strive for diversity in our supply chain and, whenever possible, always suggest redundancy.
What was your "aha" moment or epiphany that you think will resonate most with our reader, tell us that story?
I remember precisely when that was. It was 1985, and we installed a satellite communications dish at an oil rig in the middle of nowhere. This technology offered voice and fax service at a time when cell phones were non-existent, which allowed the oil company engineer to send his daily report from the comfort of his office onsite instead of driving six hours on difficult bush roads to the closest town. He was one happy customer and couldn't thank us enough! I'll never forget that experience. Satellite technology dramatically improved the efficiency of the oil rig and improved the lives of our customers in a meaningful way. Striving for happier customers is what drives Galaxy's business today. We focus on finding the best solution to solve a real-world need in communications, and when you see the result, it is very rewarding.
What is the one thing that has you most fired up today?
My very first meeting in the morning is with our technical support team, and when they tell me that our networks are running to perfection and all customers are happy, I'm fired up in a good way. But if we have an unresolved customer support ticket, it's the opposite. When you know that your customers rely on your service, making sure it works as promised is the most important job at hand.
What is the best advice you received?
My dad, not usually one to offer advice, suggested I read the book, "In Search of Excellence," which I thoroughly enjoyed. Its message, which I read as "profit is not a goal, it's an effect," became the core of my beliefs in business. Though written in the eighties, I still see it as valid today. If you do the right thing and try your best to deliver an honest service that makes a difference for people, the profits will flow – but don't get into business solely to make profits!
What is a habit that contributes to your success?
Always ask "is there is a better way," and don't give up until you find it because if you don't find it, someone else will. This is especially critical in a fast-moving, high-technology business like satellite communications. Our customers deserve the best solution possible, and it's our job to deliver it.
What people or organizations do you believe best embody the innovation mindset?
I'm a fan of Brent Perrott of Hunter Communications. Brent and his team saw an opportunity to deliver exceptionally strong satellite coverage for the Canadian market, and the result is a service that can deliver 50Mbps on a 65cm antenna north of 70 degrees! But I also need to mention Elon Musk of SpaceX and Tesla. He has changed the satellite launch business in a very positive way through innovation. He asked the question: why launch a rocket and let it burn up? It seems silly to let the cost just burn so he and his team at SpaceX developed a reusable launch vehicle, saving millions on the cost of each launch. SpaceX is now developing a new low earth satellite constellation, promising to deliver the Internet to consumers around the world.
How is your organization changing the game within your industry sector?
We have had many firsts in providing satellite internet service: first in North America to offer commercial Ka-band service, first in Canada to deliver 20Mbps to maritime via Ka, and we have led the market in recreational services to work camps. We were the first to focus on the end-user experience in morale applications, rather than just delivering a pipe. These are just a few of the things we did in our efforts to focus on finding the right solution to meet customer needs.  We don't just provide links to the outside world –- we spend a lot of time understanding the customer applications and sourcing the right technology best suited to meet that need. Instead of selling connectivity, we are in the business of connecting our customers' data and voice links to offer the performance they need to do the job. Our competitors sell links that make money for them; we sell solutions that work for our customers. This often includes shopping around for the best deal, much like an insurance broker, so Galaxy offers multiple satellite solutions from multiple international satellite operators.      
What are some of the biggest impediments to innovation in your industry sector?
As a service provider, Galaxy buys space spectrum from the satellite owner/operators as raw capacity, feeding our ground technologies that convert spectrum into data for use by our customers. This raw capacity has traditionally been used to deliver TV channels to cable companies across the globe under long term contracts of five years or more. With the innovation pace of this industry moving so fast, business models need to adapt, and long-term contracts are challenging. However, satellite owner/operators invest $400M to $5B to build and launch, so who can blame them for trying to secure long term commitments? It may be wishful thinking, but this is certainly an impediment I believe the industry needs to address.
How has innovation become engrained in your organization's culture and how is it being optimized?
Repetition. As said earlier, the culture at Galaxy is customer-focused, and the goal is to find the best solution possible for our customers' needs – and sometimes that means finding a better way. As CEO, if I "have we created the best service for this customer's need" enough, it will become second nature.
What technologies, business models, and trends will drive the biggest changes in your industry over the next two years?
Low earth orbit satellites (LEO) and the ground technology required to track these satellites offer a transformational evolution for our industry. The knock against using satellite has always been the latency, which is the time it takes data to travel 40,000 kilometers in space and return. LEOs will orbit a lot closer at 500 – 1,200 kilometers up in space, which makes applications work much faster and perform like a fiber connection. It is our hope that the business models will also be transformational. We expect to see new flat-panel antennas that can electronically track the satellites movement and auto-peak the signals. With the combination of high-performing low-latency links and simple cost-effective user terminals, the LEOs will quickly become an important service for Galaxy to offer. Traditional geostationary satellites will continue to play a key role in remote communications. The trend to cloud services and other applications will need a focus on the quality of experience in addition to quality of service. Best-effort networks may work for recreational surfing, but quality of experience networks will deliver the performance that demanding applications will need.
What is your parting piece of advice?
If you need communications for your remote location, do your homework. Internet access is not like a utility: it's not like a water service – one size does not fit all. One satellite Internet service may be designed for consumer use, another for critical military applications. And service providers often vary in their focus and capability. With the Internet and Google, any smart question can find a smart answer. The challenge is to get the question right. My advice to your readers is to identify your requirements – the communication need and the support model that are most important to your remote site – and then shop around for the solution.