Through Initiatives 50 and 91 of Strong, Secure, Engaged, Canada is looking at acquiring Remotely Piloted Aircraft System (RPAS) capability to perform precision strikes to support Canadian Armed Forces (CAF) domestic and international operations.
In May this year, Canada invited potential suppliers to submit their proposals. L3 Technologies MAS Inc. and the United States Government and General Atomics Aeronautical Systems, Inc. are the two qualified suppliers who will go on to the next phase of the procurement process and be invited to submit bids for this project.
A contract is expected to be awarded in 2022/23 with the first delivery slated for 2024/25.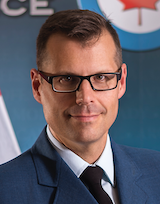 Vanguard recently spoke with Major Jason Furlong, Project Director for the RPAS Project. Maj Furlong is a CP-140 Aurora Air Combat Systems Officer with the Royal Canadian Air Force. A graduate of the Royal Military College of Canada, his 27 years of service have seen him serve all over Canada, and exchange tours with the Royal Air Force and the US Navy where he flew the Nimrod and P-8A Poseidon respectively.
Maj Furlong, it's no secret that it has taken the Canadian Armed Forces a long time – over a decade – to convince the Government of Canada to acquire armed drones. Attempts were made starting back in 2006, which finally bore fruit in 2017 by being included in Strong, Secure, Engaged. Can you shed some light as to this delay and what has changed to cause a push for RPAS now?
Canada's defence policy, Strong, Secure, Engaged (SSE), set an objective to reinforce relations with key partners and respond to conflicts and crises abroad, including support for peace and stability operations. Based on SSE direction, as noted in initiatives 50 and 91, the release for the request for proposal (RFP) for a remotely piloted aircraft system (RPAS) is planned for the 2020-2021 fiscal year. In order to meet this timeline, an invitation to qualify was published and resulted in a list of qualified suppliers in May 2019.
It is important to note, however, that while RPAS procurement efforts have progressed through the years, the Canadian Armed Forces continue to utilize unmanned aircraft systems (UAS) to address specific and urgent requirements. Currently, the Canadian Army operates a short-range UAS, the RQ-21A Blackjack. Similar smaller systems have been leased for the Royal Canadian Navy and the Canadian Special Operations Forces Command, while additional projects are underway to acquire a permanent solution. The CAF leased a Heron 1 UAS under Project NOCTUA, which conducted ISR in support of air and ground operations in Afghanistan.
Canada's operating environment represents some of the most challenging conditions for the successful operation of such a system. Recent technological advances have shaped available systems to the point where they align with RCAF requirements and justify such an investment.
The aim of the Remotely Piloted Aircraft System (RPAS) Project is to procure a new fleet of armed medium-altitude, long-endurance (MALE) remotely piloted aircraft and related equipment capable of intelligence, surveillance and reconnaissance and precision strikes in support of Canadian Armed Forces operations.
The system will multiply the effectiveness of our deployed forces and will complement existing platforms within the CAF. As a truly joint asset, the system will modernize our capabilities and bring us in line with our allies to better operate in coalition environments.
Furthermore, the RPAS can be employed domestically to augment the efforts underway for maritime domain awareness by monitoring our vast maritime approaches, including the Arctic. The breadth of the RPAS capability is such that it is able to support all eight of the core CAF missions outlined in SSE.
Canada seems caught on a single fleet solution to try and meet our demanding domestic surveillance needs for the Arctic and maritime approaches, and in supporting deployed ops. Most other nations with similar challenges have gone to mixed fleets to meet these needs, for example, RAAF Triton/Reaper, US – Triton/Global Hawk – GA Reaper, NATO Global Hawk, Germany Eurohawk and some NATO members also operating Reaper, like France, Italy, UK, Belgium, Spain. As the country with the longest coastline and the largest landmass of all the western allies, why is Canada not looking to have strategic and tactical capabilities?
Our previous studies into a remotely piloted aircraft considered a two-fleet solution to deliver an RPAS capability to Canada, but recent technological developments have allowed us to pursue a single-fleet solution which delivers the necessary capabilities for Canada.
Furthermore, the personnel, training, and maintenance requirements for two fleets of aircraft can be resource intensive. By selecting a single-fleet option, we have reduced the cost and are able to focus on delivering the greatest benefit for Canada.
Canadian Armed Forces continue to utilize unmanned aircraft systems (UAS) to address specific and urgent requirements on a tactical level, such as the Canadian Army's aforementioned short-range UAS, the RQ-21A Blackjack.
Operating RPAS in Canada's Arctic, especially with the lack of access to bandwidth in the high Arctic and severe weather conditions will be quite challenging. How do you plan to combat these challenges?
Advancements in a variety of new commercial communications systems and managed bandwidth show promise to enable operations in high-latitude regions. Other projects directed by RCAF will serve to enhance RPAS and other capabilities, which are required to operate in the Arctic.
For example, Strong, Secure, Engaged Initiative 85 calls for the development of a satellite communications constellation that will deliver Arctic communications infrastructure. The Enhanced Satellite Communication Project – Polar (ESCP-P) will provide the CAF with narrowband and wideband satellite communications (SATCOM), essential for beyond line of site (BLOS) communications over the Arctic and the rest of the Canadian area of responsibility (AOR). The project will be developed in parallel with RPAS, and both are scheduled to achieve Full Operational Capability within the next 12 years.
Canada's north is mostly serviced by non-paved runways: only Iqaluit and Inuvik are paved. Are there any RPAS platforms that can work from remote runways? If so, is that reflected in the requirements?
The benefit of a medium-altitude, long-endurance (MALE) RPAS is that they are able to persist aloft for longer periods of time and travel great distances. As a result, the existing runway infrastructure in the Arctic is suitable and positioned such that the latest generation of RPAS will be able to conduct patrols over any part of Canada's vast territory and to the outer edges of Canada's AOR.
What are some of the unique capabilities that the RCAF is looking for with RPAS?
RPAS is an integrated system with a robust communications system that relays data back to a ground facility that contains an embedded intelligence-production capability. The system will be capable of detecting, recognizing, identifying, and tracking targets of interest in complex environments, as well as providing that information, which is then translated into actionable intelligence. As such, RPAS will provide the commander and all associated forces an enhanced awareness of not just the immediate battlefield but the whole area of responsibility.
The RPAS precision strike weapon capability, matched with its long endurance, will provide commanders with an uninterrupted, operational picture and will enable highly responsive weapons delivery. The weapons will include laser guided bombs for hardened threats and low-collateral damage weapons for targets in sensitive areas.
The characteristics of an RPAS are such that it reduces the risk to personnel involved in operations on the ground through increased ISR capabilities. In addition, there is no risk to aircrew life if a remotely piloted aircraft is lost or damaged, as opposed to our current ISR aircraft which are manned by a ten-person crew.
What are some of the missions that RPAS will take part in, and how will it benefit the CAF?
Strong Secure Engaged outlines eight core missions for the CAF, all of which RPAS will contribute to fulfilling. Our allies have shown that RPAS are a vital new capability for any modern military force.
At home, this capability will help protect the security and sovereignty of Canadians by monitoring Canadian territory. Since Canada has one the largest landmasses and some of the longest coastlines, remotely piloted systems are ideally suited for surveillance and reconnaissance of our territory – particularly for maritime approaches and the Arctic.
In overseas operations, RPAS will significantly contribute to operational success. The system will contribute to intelligence, surveillance, target acquisition, and reconnaissance (ISTAR) capabilities, giving commanders an overview of operational situations with near-real-time information.
Having a persistent, armed RPAS, will ensure that the CAF can more quickly respond to threats, contributing to the safety of Canadian soldiers on the ground. This will shorten the "Sensor-to-Shooter" loop and selectively give the Operational Commander the choice to strike targets in accordance with the Laws of Armed Conflict (LOAC), in addition to CAF-specific Rules of Engagement (ROE).
An RPAS will allow the CAF to assist other government departments in support of special security events, such as international summits, assistance to law enforcement agency operations, and aid to the civil authorities – such as requests for assistance in the event of natural disasters and search and rescue operations.
How many people will the RCAF need to crew and exploit this capability?
The need to operate and support this capability extends beyond the immediate group of operators sitting at the controls and maintenance personnel readying it for flight. RPAS is a 'System of Systems' concept, and overlaps with existing, and some new, capabilities in the CAF. Many of these roles and responsibilities will be fulfilled by uniformed CAF personnel; however, we are exploring options that will include support from the Canadian private sector. SSE has accounted for and will provide the resources to deliver and operate this capability.
Who will operate the platforms: pilots or other trades? If not traditional pilots, how and where will you train the operators?
The RCAF training system currently develops versatile personnel that possess the broad skillset necessary to bring RPAS into operations. As a result, it is anticipated that personnel from existing trades and occupations will establish the RPAS crew and workforce.
The specific qualifications to fly this new platform and deliver air power for our joint operations is still being studied; however, we will be looking to streamline the training for our personnel. As with existing aircraft fleets, RPAS pilots will be trained specifically for this unique system and held to the same high standards.
Lastly, there has been a lot of discussion in the media about concerns related to the increasing prevalence of remotely piloted aircraft sharing airspace with existing private and commercial air traffic. How do you plan to mitigate any potential safety issues?
Access to Canadian airspace by any CAF RPAS will be conducted in deliberate, incremental steps, ensuring the safety of all airspace users – as we have with all other platforms in the past. The RCAF is continually engaging with and learning from our allies, who are integrating these systems into domestic and international airspaces.
For an RPAS to operate in a controlled airspace, and without specialized segregation from other aircraft, a certificated pilot must be at the controls at all times. Significant coordination activities are ongoing between the Department of National Defence, Transport Canada, and NAV CANADA to ensure harmonization of RPAS regulatory efforts into the existing and already rigorous certification process.