James Kempston started his career in business development with an IT distribution business before moving into engineering within the military and defence sector. "I took on a Research and Development/Business Development role working for an international company managing their Canadian and North American market," said Kempston. "The experience I have acquired from my commercial and technology background has provided me with a solid foundation for my current role."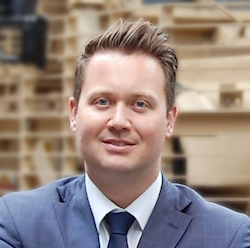 Today, he is the CEO of NP Aerospace, a world leader in the design and manufacture of advanced, lightweight, high-performance armour technologies for the protection of people and vehicles in high threat military and security environments.
"My role is to build and drive the organization," said Kempston. "To modernize processes to make us faster and more efficient, and to allow us to adapt and respond to changing customer requirements."
James Kempston was selected as a Vanguard Game Changer for the October/November issue. Below is the full interview with him. 
What was your most challenging moment?
Aside from convincing my young family to relocate to the UK from Canada, my biggest challenge was buying the business, while still running business development. It was critical to keep the business performing and delivering for customers. The acquisition was tough, but working with a great partner like the Pasqua First Nation Group (PFN) ensured the acquisition ran smoothly, and I was able to focus on growing the business. PFN was able to provide support and guide us through the process while we concentrated on the mechanics of running the business. (NP Aerospace was jointly acquired by the PFN Group of Companies and James Kempston, a former NP Aerospace Executive. PFN is 100 per cent owned by Pasqua First Nation in Canada).
What was your "aha" moment or epiphany that you think will resonate most with our reader? Tell us that story?
There was a point during the acquisition where I had to consider whether I wanted to continue to work for someone else or take a leap of faith and run it as an independent business. It was by far the harder option, but it was the right one for the end-users, the staff and for me. There are other moments when I hear from servicemen and women whose lives have been saved by our products; that's when I realize the value of what we do every day.
What is a habit that contributes to your success?
A desire to win, or – sometimes more importantly – a desire not to lose. I have always been very competitive in everything that I do. I want this business to be number one in our market.
What is the one thing that has you most fired up today?
The ability to use technology and advances in materials manufacturing to save the lives of soldiers and law enforcement and ultimately to bring our loved ones home. This is by far the most valuable aspect of being a CEO in this business.
What is the best advice you received?
Do what you love. The money will come after. Listen 70 per cent of the time and talk for only 30 per cent of the time. This is critical in an industry where the end-user needs are the difference between life or death.
How is your organization changing the game within your industry sector?
NP Aerospace is a global armour technology manufacturer and vehicle integrator with a portfolio developed for the defence market using ultra-lightweight, high-performance materials. Our products protect the lives of servicemen and women, enhancing security and resilience in high-threat environments. For us, it's about adapting quickly by introducing advanced technologies and modernizing business processes to meet changing end-user needs and changing global threats. Our R&D team is continually developing products that reduce the weight or burden for soldiers, while the rest of the business is focused on improving business agility so we can get to market first.
What people or organizations do you believe best embody the innovation mindset?
Companies that have a strong foundation and an ability to modernize and adapt quickly to changing market needs are the ones that best embody innovation.
What are some of the biggest impediments to innovation in your industry sector?
The ability for governments to communicate openly on what they need or what they want is a challenge for industry. Contractor rules have an impact on government to industry communication, making it harder for companies to innovate.
How has innovation become engrained in your organization's culture, and how is it being optimized?
We have a strong technology roadmap driven by customer demands, a solid business development strategy and a continual program of manufacturing technology enhancements. It's not just about products: it's about how you build the business and deliver products in the fastest and most cost-effective way. The Amazon effect of 'buy today, receive tomorrow' is just as important in defence and security as it is in consumer markets. We are fully focused on enhancing our capabilities to ensure our products are better and the customer experience is better.
What technologies, business models, and trends will drive the biggest changes in your industry over the next two years?
E-commerce and the drive to accelerate the speed of response are the factors that will push the biggest change in our market. It's no good to develop the latest technologies if your business processes are not adapting. As an independent SME with extensive on-site R&D capabilities and ISO-approved ballistic testing, we are able to shorten cycle time through rapid prototyping and testing.
What is your parting piece of advice?
I will repeat, do what you love. The money will come after. Often you are better off delivering 100 per cent of the 80 per cent solution rather than striving for the 100 per cent solution, which is never realized. Achieving perfection is a good thing, but it can impact speed to market, which is critical in this industry.