In a ceremony that took place yesterday on Parliament Hill, LGen Wayne Eyre assumed the position of Commander Canadian Army from LGen Jean-Marc Lanthier, who has assumed the position of Vice Chief of the Defence Staff.
LGen Eyre previously held the post of Commander of Military Personnel Command and has served in a variety of command and staff appointments including command of 3rd Battalion Princess Patricia's Canadian Light Infantry, 2 Canadian Mechanized Brigade Group, 3rd Canadian Division and Joint Task Force West, Deputy Commanding General – Operations for XVIII (US) Airborne Corps, and as Commander Military Personnel Command. He was also the first non-American Deputy Commander of United Nations Command, the multinational force supporting the Republic of Korea since 1950.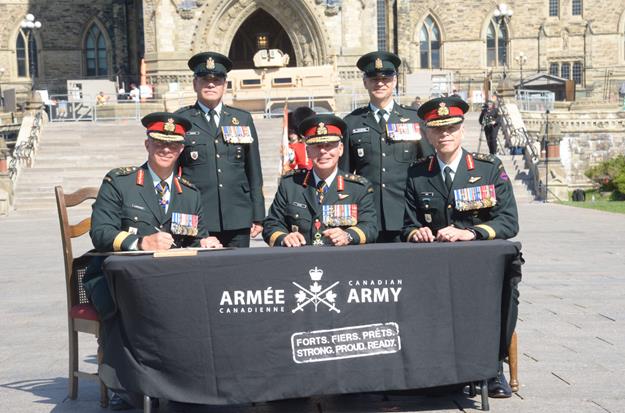 LGen Eyre also will serve as the Defence Team Champion for Indigenous Peoples. This position has been held by the Commander Canadian Army for over ten years.
"I commend Lieutenant-General Lanthier for his leadership and resolve in leading the Canadian Army, and I am confident he will demonstrate the same as Vice Chief of the Defence Staff," said Harjit S. Sajjan, Minister of National Defence. "I would also like to congratulate Lieutenant-General Eyre on being appointed Commander Canadian Army, knowing that he will lead the organization with distinction and professionalism."
The Chief of the Defence Staff, General Jonathan Vance, who presided over the ceremony said that LGen Eyre has the leadership and experience to ensure that the Canadian Army is not just ready, but positioned to evolve in our complex and ever-changing world.
"I am deeply honoured by the opportunity to command the Canadian Army and also feel privileged to assume the role of Defence Team Champion for Indigenous Peoples," said LGen Eyre. "I am eager to build on the foundations laid by Lieutenant-General Lanthier and ensure that the Canadian Army remains Strong, Proud, Ready to answer any call."
The Canadian Army is the largest part of the Canadian Armed Forces and consists of 23,000 full-time soldiers, 19,000 part-time volunteer soldiers, 5,300 Canadian Rangers and 3,300 civilian employees.