As a maritime nation with the longest coastline in the world, and being surrounded by water on three borders, Canada requires relevant vessels to manage both domestic and international obligations. These ships play a fundamental part in protecting sovereignty, search and rescue missions, surveillance, seaborne transportation and logistics needs.
Currently, Canada is working to outfit the Royal Canadian Navy (RCN) and the Canadian Coast Guard (CCG) through the National Shipbuilding Strategy (NSS) with modern vessels to perform their duties, but what is the future of shipbuilding? That topic was the centre of discussion at this year's Ship Tech Forum.
In March this year, Vanguard held its sixth annual ShipTech Forum, enabling dialogue among industry, government and military and sharing lessons learned from a ship-tech perspective. To see pictures and tweets from the event, go here.
The future of shipbuilding is one that consists of innovation, building hubs that will support the advancement of maritime technologies, improvement in fusion welding, and 'digital twin' management. However, to get to that future, we need to learn from past and current experiences and understand what is important to Canada.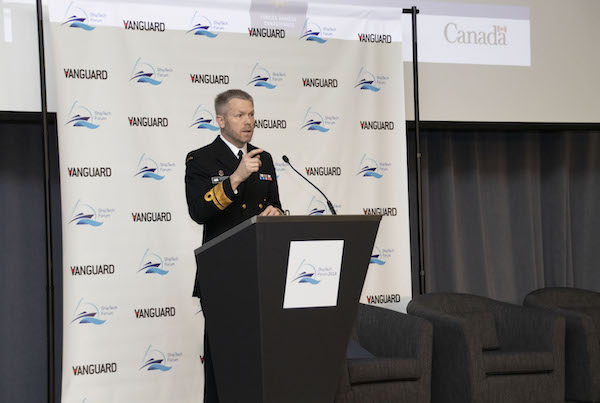 "The world is changing," said RAdm Casper Donovan, Director General Future Ship Capability, RCN. "Digital technologies and data are increasingly disrupting the norm and enabling new ways in doing things, introducing new possibilities to pursue and changing how we interact with our environment and each other." RAdm Donovan made those remarks during the opening keynote message to kick off the one-day conference.
During the rest of his presentation, he went on to answer the question of what this technological change means for the RCN. Guided by the government's direction as highlighted in Canada's defence policy, Strong, Secure, Engaged, and through the NSS, RAdm Donovan pointed out that the RCN is looking forward with a sense of how they need to change to ensure success as an institution in the changing world. He said that, in their view, the answer lies in two words: digital navy.
"Changing the Navy one sailor at a time is what we are after with digital navy. We will build tomorrow's Navy around our sailors, inspiring them, their families and Canadians at large, with a digitally enabled organization that stands tall for Canada and Canadians," added RAdm Donovan. To get there, the RCN has to "leverage the best practices of leading-edge industries and empower sailors with a culture where innovation and change are the long-term determinants of success."
RAdm Donovan highlighted three aspects to make the digital-navy vision a reality. Firstly, a look as to where the Navy needs to be in the future. This is about embracing technologies in the world today, even to the point of utilizing social media to interact with people. Second, digital navy spans the whole institution of the RCN, the fleet of fighting ships, the underpinning enterprise and the sailors. Lastly, the role of culture. It is about mapping out the end state, which is a vision of where they are going, using creativity to get there, and empowerment with the technologies so that the people of the RCN can step out and realize that vision.
He pointed out that the digital navy is not about reducing the number of personnel or shrinking the RCN by replacing them with technology. "It is about investing and enabling sailors to be at their best and providing them with the personal satisfaction that comes from working in a world-class leading-edge institution called the RCN," he said.
He went on to provide some examples of utilizing cutting edge technologies like Artificial Intelligence in ships and how that is viewed from the perspective of augmenting the sailors. It's about leveraging network and data to provide sailors with more information to make better-informed decisions. Other technologies like machine learning, cloud, and augmented reality will be integrated into the RCN to empower sailors in the future.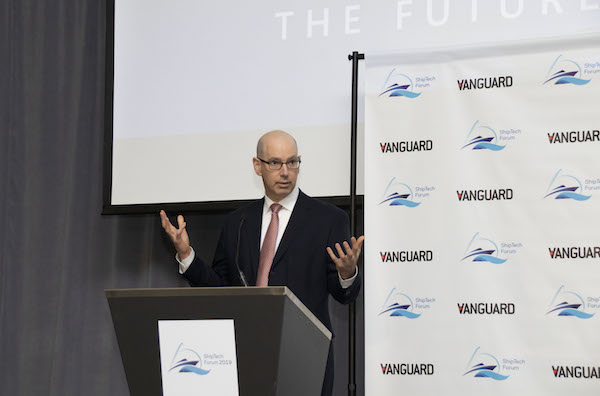 Another major area that is helping to shape the future of shipbuilding is Canada's NSS program. NSS is an ongoing operation that Canada is undertaking to re-capitalize its fleet, grow the marine industry and encourage innovation across the country. During his keynote address, Patrick Finn, ADM Materiel, provided a short update on NSS. He explained that this procurement strategy articulated an approach that will provide direction for years to come on building ships.
Finn pointed out that building this strategy "goes well beyond the creation of jobs; it's about national security and sovereignty. That is why we need a shipbuilding strategy." It's about having our own shipbuilding and repair capacity. "All of our key allies understand the need for a strategic source of supply around shipbuilding. Some go offshore for some products, only after there has been sufficient domestic build to ensure that supplies are available and a robust maintenance capability is in place," he added.
ADM Materiel also provided an overview of the major builds that are underway in various stages on the East and West Coasts of Canada, namely the Arctic and Offshore Patrol Vessels, Joint Support Ships and, more recently, the selection of BAE's Type 26 design for the Canadian Surface Combatant project. Looking forward, he pointed out that they want to continue to build on interoperability, situational awareness, survivability, adaptability and other areas to apply to the Victoria-class Submarine Modernization program. Other capabilities upgrades will include updating torpedoes, patrol systems, and periscopes.
"The shipbuilding strategy has and does the work and enables us in so many ways to continue to ensure we provide the fleet the Navy needs. It also bolsters the marine industry," said Finn. "The recapitalization of the federal fleets in Canada remains an important and achievable goal, only if we work tirelessly to keep driving down the cost and educating Canadians on the importance of this strategy."
Currently, Canada has all the pieces in place to build a strong foundation through the NSS and become a competitive player within the global marine industry. However, having this strong foundation is not enough; it is about building on this foundation that will position Canada to be one of the leaders in the future of shipbuilding.
"We need to press forward in building ships in Canada for a number of operational and economic reasons. We need to ensure that the learning curves are achieved to drive cost down, which will in turn result in savings from an in-service support perspective," said Finn.
Other presentations during the conference revolved around lessons learned from NSS; an update on marine welding; a new hub for ocean technology innovation called COVE (Centre for Ocean Ventures & Entrepreneurship), which opened last October in Halifax; and an insightful discussion on digital twin in shipbuilding.
The 2020 ShipTech Forum will take place on February 25 at the Westin in Ottawa. Registration will open soon. Stay tuned to Vanguard for more.