Last week, Lockheed Martin announced that Lorraine Ben has been appointed vice president and chief executive for Lockheed Martin Canada, taking effect immediately. In her new role, she reports to Richard H. Edwards, executive vice president of Lockheed Martin International.
Ben's portfolio consists of a broad range of activities in Canada and serves as Lockheed Martin's lead representative in Canada.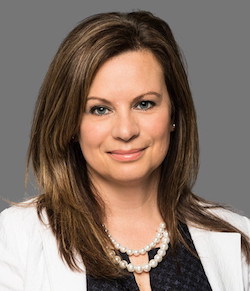 "Lorraine is a strategic thinker and business leader with extensive business experience working in the Canadian market," said Edwards. "Originally employed with us in the late nineties in Kanata and Owego, NY, we were delighted when she returned to the corporation four years ago and have full confidence that she is the right person to lead Lockheed Martin's strategy in Canada."
Lockheed Martin has a growing presence in Canada with 1,000 employees operating in more than 10 facilities and customer sites across the country in supporting major programs spanning the aerospace, defence and commercial sector. The company was recently selected as the prime contractor to deliver the design and systems integration for the Canadian Surface Combatant program for the Royal Canadian Navy. Its C-130 Hercules aircraft platform and CH-148 Cyclone maritime helicopter play an important role within the Royal Canadian Air Force operations. It also has a large supply chain of 1400 Canadian companies, which have contributed to the development and production of the F-35 Lightning II 5th generation fighter jet.
The Irish-born executive, who migrated to America and lived in Alabama before moving to Sault Ste. Marie, Ontario, said she is honoured and humbled to assume this leadership role and look forward to continuing to nurture positive relationships with their customers, partners, suppliers and academic leaders across Canada.
Ben is a graduate of Laurentian University and the Canadian Forces National Security Studies program. Before joining Lockheed Martin in 2015, she served in a variety of business development and pursuit capture roles with Telus Corporation, Accenture and IBM. Prior to this, Lorraine worked for Lockheed Martin supporting business development in Owego, NY and Kanata.
"It is an exciting time to be part of the innovation fabric for the defence and aerospace industries as Canada delivers its defence policy Strong, Secure and Engaged and the Aerospace Industries Association of Canada publishes Vision 2025: Beyond Our Imagination," said Ben.