The threat of chemical and biological warfare is real. It can be unleashed at any time and in any place. So, what are some of the antidotes to fight against this threat?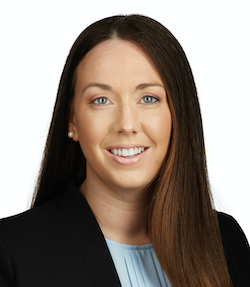 One of our Game Changers for the June/July issue of Vanguard has been working on producing drugs that will help protect against such an attack. Ashley Meyers, President, Co-Founder & Chief Operating Officer of AntoXa Corporation and her team have been working on producing high-value therapeutic protein drugs to protect against chemical and biological threats using a plant-based manufacturing platform, vivoXPRESS®.
"Our pipeline includes antidotes to ricin poisoning and nerve agent exposure as well as a nerve regeneration therapy for trauma injuries," said Meyers. Typically drug products like these are manufactured in mammalian cells, which makes them expensive, but Meyers pointed out that their "products can be made for 10 per cent of the traditional cost."
"Our platform is also uniquely positioned to rapidly respond to emerging threats and can be easily scaled – you simply grow more plants, like vertical farming," she added.
Here is our interview with Ashley Meyers.
How did you start out in this industry, and how has it brought you to where you are today?
I started out as a research associate and project manager for a professor at the University of Guelph, Dr Chris Hall, on government-funded defence-related contracts. As Dr Hall approached retirement, we transferred the programs to the company Dr Hall co-founded, PlantForm Corporation. Several years and contracts later, we decided to create a subsidiary within PlantForm for the defence-related programs – AntoXa Corporation was born. Initially, as the Chief Technology Officer, I worked with the other founders to secure government contracts and advance our lead product into non-human primate safety/toxicology. These years of experience have brought me to my current role in the company as President and Chief Operating Officer.
Tell us about your role in your organization today?
I am currently the President and Chief Operating Officer of AntoXa. However, since AntoXa is a small company, I take on a variety of roles. My roles include securing and managing government contracts (non-dilutive funding), engaging our government stakeholders to advance our lead product, and exploring new business opportunities and collaborations.
What was your most challenging moment?
Raising capital in the medical countermeasure space continues to be a challenge. Venture capitalists (VC) specializing in the defence space are limited. Traditional VC's investing in the pharmaceutical space are typically not interested in medical countermeasures due to the limited customer base, despite the shorter product development times. Government support can also be difficult to secure as their priorities can rapidly change depending on the threat, or for a variety of other factors.
What was your "aha" moment or epiphany that you think will resonate most with our reader? Tell us that story.
Realizing that our ricin antidote is exceptionally stable (i.e. has a long shelf-life) and our manufacturing process is highly reproducible. We have challenged the stability of our antidote by testing it at standard storage conditions as well as at extreme temperatures. Our product remained stable for the duration of the studies – 18 months so far and counting. We are gearing up to transfer our manufacturing process to a large-scale GMP facility. We've conducted experiments to evaluate the reproducibility of the process. To date, we have found negligible differences from lot to lot produced at our R&D facilities, so that's great news for product consistency and for our ability to scale manufacturing.
What is the one thing that has you most fired up today?
We believe we have a best-in-class drug, and we are excited by the support and recognition we are seeing from new potential customers in government, defence and public health.
What is the best advice you received?
If you're going to do something, do it well. To me, this means striving for excellence and being goal-oriented while remembering the big picture.
What is a habit that contributes to your success?
I invest a lot of time building strong relationships with clients and potential customers. I value open and direct communication that promotes transparency. I attribute much of the success from my projects to the open communication, relationships and trust I've established with stakeholders.
What people or organizations do you believe best embody the innovation mindset?
Biotechnology start-ups. These groups often come from academic settings or innovation hubs where they are surrounded by ingenuity and peers who constantly set the bar higher and higher, ultimately driving innovation.
What are some of the biggest impediments to innovation in your industry sector?
Reduced access to funding through venture capital groups. We primarily rely on support from government contracts for funding. Another is the requirement for biological safety level 3 facilities to evaluate efficacy of products, which can make it difficult to find certified collaborators.
How has innovation become engrained in your organization's culture, and how is it being optimized?
Our company is a university spin-off and retains that innovation mindset and focus on ingenuity as we strive for new breakthroughs.
What technologies, business models, and trends will drive the biggest changes in your industry over the next two years?
Disruptive technologies, such as our plant-based manufacturing technology, will change the approach of the industry. With business models, we see partnerships and integration of companies from different sectors bringing diverse product lines and capabilities together on a common mission driver. Trends include decentralized manufacturing in countries with unmet market needs.
What is your parting piece of advice?
Try to stay informed about developments in your industry, including funding opportunities, investments, competitors' progress, etc. These developments can lead to new opportunities for collaborations, funding, and can guide your path forward. This knowledge is powerful.