One of the most significant challenges the Department of National Defence/Canadian Armed Forces (DND/CAF) face is the rapid increase in complex innovations that are changing the global security environment. DND/CAF must remain ready to effectively adapt to any environment, whether responding to natural disasters, providing expert search and rescue, defending Canadian sovereignty, or contributing to greater peace and security in the world.
So how do we equip our military with the tools and knowledge they need to mitigate new threats, stay ahead of potential adversaries, and meet evolving defence and security needs? By ensuring members have access to the most recent innovations and technologies.
Traditionally, most defence innovation in Canada has been conducted in government research labs with only modest leveraging of Canadian industry and academic capabilities and expertise. This practice created a knowledge-gap and left certain ideas untapped. That was generally the case until a year ago when DND switched-up its innovation game and launched the Innovation for Defence Excellence and Security (IDEaS) program.
The IDEaS program, launched in April 2018 as a result of Canada's defence policy, Strong, Secure, Engaged, outlined a $1.6 billion investment into Canada's innovation community over 20 years. The first of its kind in Canada, the program is designed to engage beyond the traditional defence and security community by inviting all Canadian innovators to propose solutions to the challenges faced by DND/CAF. This extends across various levels of government to small and large industry, academia, not-for-profit organizations, as well as individuals working from their own home – the "basement innovators."
The IDEaS program is seeing early success, and engagement is energizing Canada's innovation ecosystem. Easily summarized – the key to the program's success is extensive collaboration and being open to "the art of the possible."
The creation of IDEaS
The IDEaS program launch was no small feat. The program development team worked tirelessly in advance of the April launch – defining the program through extensive consultations, streamlining processes and instituting governing policies and processes. They worked closely with their colleagues across Defence, in other federal departments, and in industry, as well as with similar international programs, to gather best practices, receive guidance, and adopt lessons learned.
The basic premise of the IDEaS program is that DND/CAF identify their most challenging areas and submit them to the program. Program officials determine the best program mechanism to solve those challenges and publish the requirement online, inviting Canadian innovators to submit their proposals.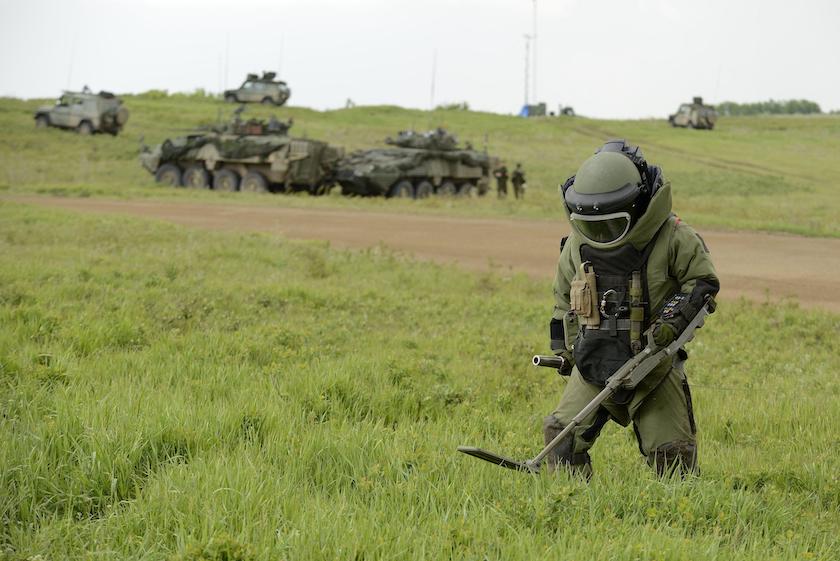 "The IDEaS Program will provide unique opportunities for Canadians to put forward their best solutions on defence and security challeng­es, and will help put those solutions into the hands of the women and men of the Canadian Armed Forces. This investment will support the growth and expansion of Canada's innovation community for the next 20 years," highlighted the Minster of National Defence Harjit S. Sajjan on the day of the launch.
It is an access-to-innovation program built on three fundamental pillars: recruiting innovators, supporting innovation development, and maturing innovative ideas into products, all to resolve Canadian defence and security challenges. Challenges can cover all aspects of the defence and security environment: large and complex problems, such as those related to surveillance in the North; or more targeted, such as how to reduce the burden on soldiers working in extreme climatic environments. The program also recognizes that not all solutions are technical in nature – innovating process or changing procedures can also solve key challenges.
Access to innovation and innovators
The IDEaS program was developed to be inclusive to all Canadian innovators by not placing limitations on who is eligible to propose solutions. The result is a program for anyone who can think outside the box and help develop defence and security solutions from concepts, to prototypes, to near commercially ready solutions. There is equal opportunity for all innovators regardless of organizational size or affiliation.
Exactly how the IDEaS program is transforming defence and security research and development while contributing to Canada`s innovation community is evident in the example of two entrepreneurs from Toronto, Andrei Betlen and David Miller. Just out of the Ryerson Computer Science program and still in their early twenties, these young innovators submitted a proposal in response to one of the challenges from the IDEaS program's first call, titled "What is in full motion video" – a challenge designed to get new ideas on how to automate imagery analysis.
After a rigorous assessment of their proposal under the IDEaS review process, the young men were awarded a contract for almost $150,000 to further develop their project "Full Motion Video Analysis: Generation and Augmentation of Datasets for Deep Learning." This project is exploring how to train a computer to be able to recognize suspicious activities that could signal a security threat. If successful, this would be the first step in a complex process that would allow analysts to effectively monitor multiple feeds simultaneously.
"Machine learning and computer vision have entered a sort of renaissance in the last six or so years. As younger researchers, IDEaS has helped us enter the field more quickly than usual, and hopefully we'll be able to go on to make meaningful contributions sooner as well," said Betlen.
Through the IDEaS program, Betlen and Miller now have their first significant opportunity to grow both their expertise and company, and to make their mark in the defence and security environment. Their story is just one of the examples of how increasing access to innovators from all levels and backgrounds will help Defence achieve results and advance solutions by leveraging scientific excellence.
Opportunities and Options
Another foundational component of the IDEaS program is the range of challenges and opportunities available to innovators. Rather than using traditional government contracts, the program offers a number of different ways to propose solutions, at various stages of readiness, resulting in benefits for innovators and for DND/CAF.
"For Defence, having access to the Canadian innovation community is going to help us achieve the results that we need, solving our innovation challenges and meeting our priorities into the future. But equally so, for the innovator to have access to a number of methods to contribute their innovative ideas is critical to success," said Eric Fournier, Director General for the IDEaS program.
The program is divided into eight independent components, five of which are designed to access Canadian innovators – the elements – and the other three to assist the innovator in achieving results – the enablers. Combined, the components will help develop, connect and evaluate innovators' solutions to ultimately help resolve defence and security challenges.
Elements of IDEaS
The Competitive projects element, under which the two young entrepreneurs from Toronto submitted their proposal, allows innovators to present solutions toward defence and security challenges. When solutions show promise, the IDEaS program provides funding to help mature those solutions into prototypes and potential capabilities.

Innovation networks is the element that provides opportunities to address longer-term challenges by creating clusters of academics, industry and other partners to stimulate collaboration and the free flow of ideas. IDEaS has already launched two calls under this element and is seeing significant interest from innovators.

The Sandboxes element is the component in which testing environments are provided by DND/CAF to innovators to test their prototypes. In response to specific challenges, IDEaS creates a physical space for innovators to demonstrate and test their prototypes as well as to receive feedback from defence and security experts. The first Sandbox is expected to occur in the fall 2019.
Contests provide grants for the successful demonstration of promising solutions to a specific challenge. It is a competitive means of finding innovative solutions and awarding prizes to the best solutions.

If an innovator is selected under the Innovation assessment and implementation element, they can have DND/CAF test and evaluate their solutions in a realistic test environment. The IDEaS program procures limited numbers of the innovative prototype for evaluation and provides feedback directly back to the innovators.
Enablers for innovators
The IDEaS program also developed a suite of tools to support innovators in realizing their innovation. Each of the three components looks at different ways to encourage success by providing access to Defence experts.
Ideation brings together multi-disciplinary teams of innovators and operators to help refine various aspects of the defence and security science and technology challenges. Participants – including professionals from academia, groups of experts from government and non-government organizations – may be invited to work with Defence subject-matter experts to refine and analyze complex defence challenges.

Integrators are DND experts assigned to follow proposed projects and explore and advise how innovations might be used to solve innovation challenges. Integrators leverage scientific, defence, and security knowledge and expertise to provide key insights and identify linkages to Defence.
The third enabler is Mobility, which is designed to promote innovation through the collaborative exchange of knowledge and ideas. It offers one-way exchange opportunities to applicants from government, partner organizations, industry and academia involved in IDEaS projects to share expertise and build capability.
The first IDEaS' element release coincided with the launch of the program. Under Competitive projects, 16 defence and security challenges received over 600 proposals from across Canada with almost $27 million being invested through 160 contract awards. The program has since launched a second Competitive projects call with nine new challenges, and contracting for the recipients is underway. There had also been two calls for Innovation Networks, with 12 contribution agreements recently being awarded, a total investment of $18 million. The first Sandbox is also progressing well, with the first trials expected to take place in the fall of 2019 and a second request for proposals recently being released. IDEaS is working on finalizing the various enabler components which will soon allow increased access to more defence subject matter experts.
Outreach
Another key to success? Getting the word out. Much of the program's success in this first year is a direct result of numerous engagement activities by the IDEaS program team. The work began prior to the program launch when the IDEaS team travelled across Canada setting the stage. Their goal was to inform and attract innovators and non-traditional players who could propose and generate solutions in the defence and security fields once the program launched. These efforts have continued with team members showcasing IDEaS at meetings, conferences and tradeshows, one-on-one sessions, webinars, and focus groups from coast to coast to coast.
Outreach activities have reached the full spectrum of potential program participants, from academia to industry, profit and not-for profit sectors, individual innovators, as well as all levels of government. The result of these efforts is a network of more than 3,000 stakeholders, more than 850 proposals received through five different calls for proposals, and more than 160 contracts and contributions signed with Canadian innovators.
"The response to IDEaS has been outstanding. I am proud of what has been achieved this year across all of the research programs within the Department of National Defence's Science and Technology branch and for the synergy that IDEaS investment has brought to overall S&T capability," said Ms. Isabelle Desmartis, Assistant Deputy Minister (Science and Technology).
Next steps
Still in its relative infancy, the program team will continue to refine, streamline and grow IDEaS by building on progress and successes from the past year.
The coming months will see a number of milestones, including the launch of the third call for proposals for defence and security challenges in building cyber capability, defending space missions, sustaining operations, force protection and more. IDEaS will also release the first Contest element calling for concepts for a temporary deployable city for personnel in an arctic environment.
In the coming year, all IDEaS elements and enablers will be implemented. The program team will continue outreach and engagement activities seeking out new and non-traditional innovators, and an inaugural Innovation Networks Symposium will be held where innovators can discuss all things IDEaS.
While the past year has proven successful in establishing the program and supporting growth in Canada's innovation sector, the team is continually evaluating how the program can be made more effective to ensure long-term success.
From coast to coast, the IDEaS program is tapping into some of the best minds from across Canada's innovation community. Their efforts and collaboration with Defence are providing opportunities to support and expand Canada's innovation sector while helping ensure that our Canadian Armed Forces are agile, well-equipped and combat-ready, prepared to conduct the full spectrum of operations both at home and internationally.
This article was submitted by the IDEaS team.