On January 16, the first call for proposals (CFP) for Competitive Projects under the Innovation for Defence Excellence and Security Program (IDEaS) program successfully concluded. Defence Minister Harjit Sajjan in making the announcement said: "The success of the IDEaS first call for proposals is a testament to the importance of investing in Canadian innovation to support the future of our Canadian Armed Forces (CAF)."
Since its launch in April 2018, the Government of Canada through the program has invested $26.8 million for 160 contracts. IDEaS is about bringing innovators to the table to support defence and security. For this first call, "over 600 proposals were received from innovators across Canada, including academia, small & medium companies, large industries, non-governmental organizations and individuals," according to a press release. The first CFP was administered by Public Services and Procurement Canada and focused on surveillance, cyber, space, artificial intelligence, remotely pilot systems, data analytics, and human performance.
"These new collaborations will facilitate the flow of innovative ideas and concepts to help deliver the capabilities needed for a strong and agile military," said Minister Sajjan.
The second CFP was launched on October 2018, and the first contract awards from this call will be made in February 2019.
The Department of National Defence (DND) through IDEaS is conducting this program to ensure that "the CAF have the tools and knowledge needed to mitigate new threats, stay ahead of potential adversaries, and meet evolving defence and security needs."
According to the press release, through the program DND is forming networks of innovators to administer leading-edge research and development in areas critical to future defence and security needs; holding competitions and inviting innovators to present viable solutions to specific defence and security challenges; and implementing new procurement mechanisms that allow DND to develop and test concepts, and to follow through on the most promising ideas.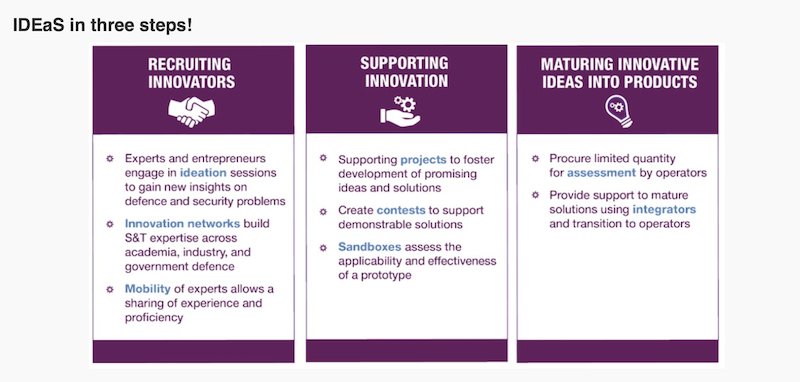 "These contracts not only support our brave members, but they also engage Canada's best and brightest innovative minds to address key defence and security challenges," said Carla Qualtrough, Minister of Public Services and Procurement Canada.
Through the IDEaS program, the Government of Canada will invest $1.6 billion into Canada's defence and security innovation community over a period of 20 years.
(Image: Pxhere)