Technologies in the cyber domain act as a force multiplier by providing intelligence, collaboration, command and network-enabled activities for militaries around the world. However, the reliance on these technologies can often expose military forces to numerous cyber threats.
These threats appear in various levels of complexity, can be obscured and ubiquitous in nature. To combat these threats and to stay vigilant, the Department of National Defence (DND) and the Canadian Armed Forces (CAF) need a comprehensive approach for managing these risks and executing response activities holistically across all relevant functional areas.
To get there, DND is establishing a coherent and enduring functional program that will identify, assess, and mitigate cyber-associated threats through a comprehensive risk management framework. They are doing so to enable the CAF to accomplish its assigned missions despite operating in cyber-contested environments.
This topic will be discussed at C4ISR and Beyond 2019, a one day conference that will be held on January 30 at Fairmont Château Laurier in Ottawa.
The panel Cyber Mission Assurance with moderator Nicholas Scheurkogel, Director, Cyber Intelligence at Cytelligence will delve into this approach by speaking with panelists Cmdre Christopher Earl, Director General Maritime Equipment Program Management, RCN; BGen Andrew R. Jayne, Director General Cyberspace, DND; Col Nick P. Torrington-Smith, Director Air Domain Development, RCAF; and Col Don Potoczny,CJOC Deputy Chief of Staff, Joint Operational Effects, US Army.
This discussion promises to be insightful and thought-provoking, given the cyber age we live in, and how threats can easily surface that can cause severe damage to organizations and adversely affect military operations.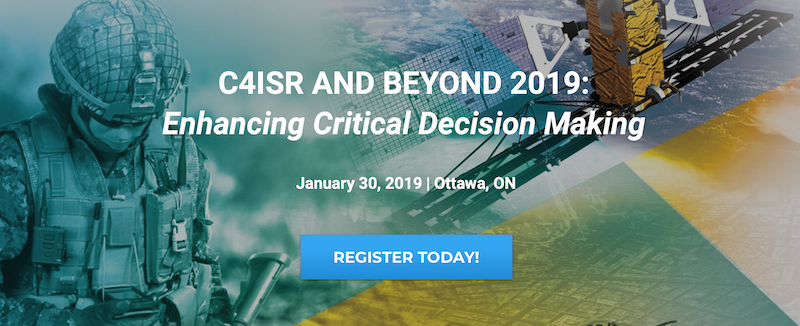 There are just a few more seats available to attend this event. Register today.