For the first time in its 68-year existence, the United Nations Command (UNC) Korea, will have a non-US General Officer serving as Deputy Commander Designate of UNC. That officer is none other than LGen Wayne D. Eyre of the Canadian Armed Forces (CAF).
"In sending LGen Eyre as the next Deputy Commander of UNC Korea, I am dispatching an accomplished General Officer who will, I am certain, represent Canada and the Canadian Armed Forces with distinction on this important UN mission," said General Jonathan Vance, Chief of the Defence Staff.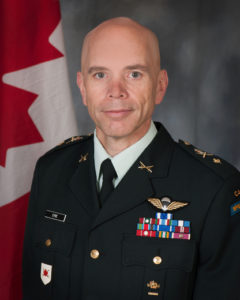 As a multi-national command, the UNC has led the Allied Korean War effort during the years of 1950 to 1953 in response to UN Security Council Resolutions. Hostilities ended in 1953 with an armistice instead of a permanent peace agreement. On July 27, 1953, the UN Command Military Armistice Commission was established to supervise the implementation of this agreement which was signed by the UNC, China, and North Korea.
With its headquarters in Seoul and Panmunjom, the UNC Military Armistice Commission is charged with supervising the 244 kilometre-long Demilitarized Zone under the authority of the Armistice Agreement.
The CAF contributes to the UNC's permanent staff and participates in exercises which help in both deterrence and reassurance on the Peninsula, according to a press release. It also provides strategic planning and consultations with military and diplomatic counterparts from participating partners and allied nations.
"The appointment of Lieutenant-General Eyre demonstrates Canadian leadership and underlines Canada's enhanced role in recent years in support of stability on the Korean Peninsula," the press release reads.
Over the summer the CAF contribution to the UNC is expected to expand from six personnel to about 15.
"For nearly 70 years, Canada has supported peace and security on the Korean Peninsula through our steadfast commitment to the United Nations Command," said Defence Minister Harjit S. Sajjan. "The appointment of Lieutenant-General Eyre to Deputy Commander – UNC Korea, and the increase in the contribution of the Canadian Armed Forces further demonstrates our commitment to maintaining the Armistice. The decision to increase our participation in the UNC is part of our continuous efforts to support our key partners in the Asia-Pacific region."
LGen Eyre said he looks forward to taking on the challenge of his new role and is honoured to be selected for this position. "Canada is committed to maintaining peace and security on the Korean peninsula and throughout the Asia-Pacific region, for which the UNC is an important component, and I will do all I can to support this objective," he said.
Canada shares strong ties with Korea through history and cultural connections, with over 170,000 Canadians being of Korean descent and further through economic links underpinned by the 2014 Canada-Korea Free Trade Agreement.