As a maritime country with a coastline extending for over 200,000 kilometres and encircled by waters on three sides, Canada has a vested stake in ships. These vessels play an important role, not only in maintaining sovereignty, but search and rescue efforts, surveillance, seaborne transportation and logistics.
For ships to continue performing such an indispensable role, technology must be adopted. Such adoption is revolutionizing ship design and operations in the shipbuilding industry for all types of vessels whether for commerce, private or defence use. Green technology, new software, autonomous systems, are all changing the industry and if not correctly developed and adopted, the marine industry will be left behind.
At the fifth annual Shipbuilding Technology Forum held recently in Ottawa, this subject was examined. "This year's theme – Agility through Technology – recognizes what is essential about a ship, it is about what's on the inside," said Terri Pavelic, editor-in-chief of Vanguard. As the leading trade journal for the defence and security industry in Canada, Vanguard hosted Shipbuilding Technology Forum 2018 at the Shaw Centre in Ottawa on March 1 with over 150 in attendance.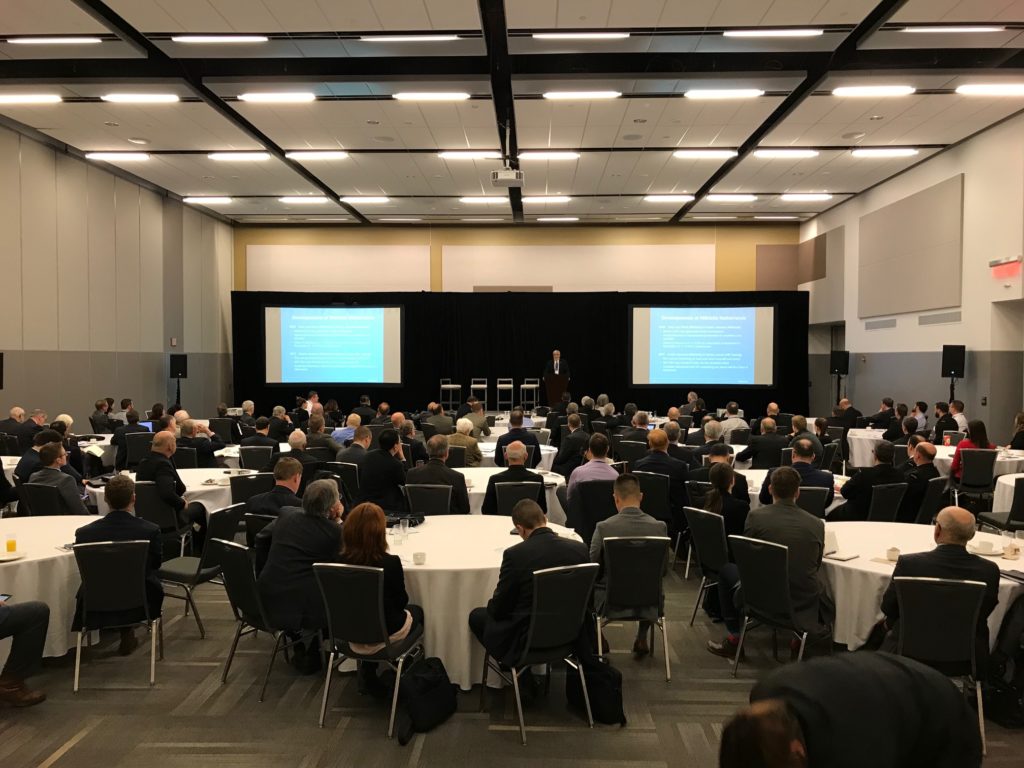 "The goal of our event is to facilitate dialogue and share lessons learned from industry, government and military perspectives," added Pavelic. "Canada has all the pieces to build a strong foundation to be a competitive player within the global marine industries."
In Canada's new defence policy – Strong, Secure, Engaged – innovation is highly embraced. This document, which was released last year, announced the Innovation for Defence Excellence and Security (IDEaS) program. According to this report, the program will "establish research clusters to stimulate collaboration and the free flow of ideas that are so critical to innovation."
In speaking during his opening keynote address, Chris Brosinsky, Director of the IDEaS said that the program "is a fundamental step that DND is taking in bringing innovation to the defence industry." Through this policy, Canada will invest $1.6 billion in innovation over two decades with over $300 million in the first five years. To get IDEaS going, Brosinsky outlined four principles. The first is termed fail fast, learn fast, where a lot of different things will be tried. "It is about fostering the best and moving on with those that work," he said.
Another principle is agile business process proposal, selection and engagement. It is about bringing expertise and academia along with CAF members in the same room to talk about problems and solutions while reducing the administrative burden of connecting. The multi-disciplinary approach is another principle, where every party involved needs to understand the issues and challenges. And lastly, building on the notion that the hardest problems attract the best ideas, is about creating an environment to bring stakeholders in who have the best solutions.
In continuing in the vein of innovation and technology, Pierre Chartier, Innovation Management Advisor for the Build in Canada Innovation Program (BCIP) gave an overview of this program. "Participating in BCIP is a win-win for both industry and the Government of Canada," said Chartier. Industry benefits by getting to their late-stage innovation, first reference sale and gaining an understanding of the procurement system. For the government, it provides them with late-stage R&D products and services and to fill in the gap of needs.
"The world is changing at a more rapid rate than ever before," said Andy Smith, Deputy Commissioner – Strategy and Shipbuilding, Canadian Coast Guard during his luncheon keynote address. "We see rapid technological advancement in all fields including biotechnology, computer and AI, data mining, and 3D printing." He went on to add, "without question, innovation is a priority for this government."
To simplify innovation, Smith views it in two streams – adaptive and transformative. He explained that adaptive innovation is a day to day activity where they seek out commercial technologies that can help to address requirements and challenges. He elaborated that in this mode, it is about taking advantage of cutting-edge technology to the extent that they can, but it is "a somewhat passive stance."
"We can only fit today into our aging ships what is commercially available, and the range of options don't necessarily meet all of our criteria," said Smith.
In looking ahead, Smith sees the option of striving for the greenest of technology which highlights the need for transformative innovation. He believes that is where the future is. He emphasized the need to seed technological advancement across the various aspects of the marine industry. This planting involves an interest in the energy domain with liquidified natural gas (LNG), battery technologies, and fuel cells. Getting into autonomous technology is another area of interest to help reduce energy consumption and to improve the life of operations.
Questions that Smith has been pondering for the future of autonomous in the Coast Guard include: "Can we take the search out of search and rescue? Could we deliver rescue autonomously?" He highlighted that they are actively seeking opportunities to innovate in this area.
Modular functional capabilities is another area that is of interest to the Coast Guard. They are also seeding innovation for zero emission systems and handling of ship-generated waste.
Other highlights on the agenda included two panels from members of industry and military and a presentation from Yves Boudreault, Chief Scientist, DRS Technologies Canada Ltd. Boudreault spoke Naval Infra-Red Search and Track Systems (IRST), which have been designed primarily for early detection of anti-ship cruise missiles. This is often used to complement radars in self-defence of ships and has the added functionality of situational awareness.
The first panel, which was moderated by Derek Buxton, Senior Director for Future Capability Development at the Canadian Coast Guard, delved into Decarbonization and Marine Propulsion Systems.
The panelists included Mark Keneford of Wartsila, Andrew Kendrick, of Vard Marine Inc., Capt(N) Jacques Olivier of DND, and Brent Perry of Plan B Energy Storage, who tackled the question of decarbonization in marine propulsion systems. They looked at current technologies that allow ship owners to incrementally reduce carbon intensity and new alternative energy systems that are under development for the marketplace.
LNG was discussed at great lengths with Kendrick pointing out that as we head down to a lower sulphur world by 2020, we will see LNG and other alternative fuels being looked at. Keneford built on that point by talking about how we need to keep up with the market by looking at alternative fuels and that LNG is becoming more and more feasible.
The last panel of the day was moderated by Cmdre Simon Page, Director General – Maritime Equipment Program Management at the Royal Canadian Navy. He led the discussion by stating that "innovation is directly related to thinking." He went on to add that we should be thinking innovation across all spectrum. Panelists Genevieve Allard of OpDAQ Systems, Jacob Kleiman, of Structural Integrity Technologies Inc. and Jean Michel Filion, Uncharted Research and Development Inc. showcased how different technologies and innovations are being used in shipbuilding and repair and to improve efficiency.
To view the list of speakers and program outline for the day, go here.
Stay tuned for pics and tweets for the event that will be coming later.