Trusted at the highest levels to help armed forces prepare, achieve and maintain tactical superiority and strategic independence over any form of threat, Thales understands the global landscape. With 2,000 employees and more than 500 suppliers, Thales Canada drives the development of new, made-in-Canada solutions that connect and equip soldiers on the battlefield, delivering information superiority and giving joint forces mastery of action whenever they face their decisive moments.
The challenge?
Is there a secure mobile software application that can be developed to enable soldiers to quickly, easily and accurately communicate and coordinate their tactical efforts while manoeuvring in an armoured vehicle? To date, soldiers could rely only upon their voice radios to communicate with other vehicles on their mission and coordinate routes and activities in the field by relying on markers and analog maps.
The Solution?
Thales' Tactical Battlefield Management System
Part of the Canadian Army's Land Command Support System (LCSS) program in collaboration with multiple defence industry partners, Thales' Tactical Battlefield Management System is the next generation of battlefield management software.  A combat multiplier, TBMS offers soldiers an intuitive touch interface mobile application that can be securely deployed on a wide range of mobile devices integrating digital battle maps, situational awareness, communications and sensor systems, allowing soldiers to make mission-critical decisions quickly and effectively. Based on the latest gaming technology, TBMS is optimized for usability in a dynamic, mobile environment.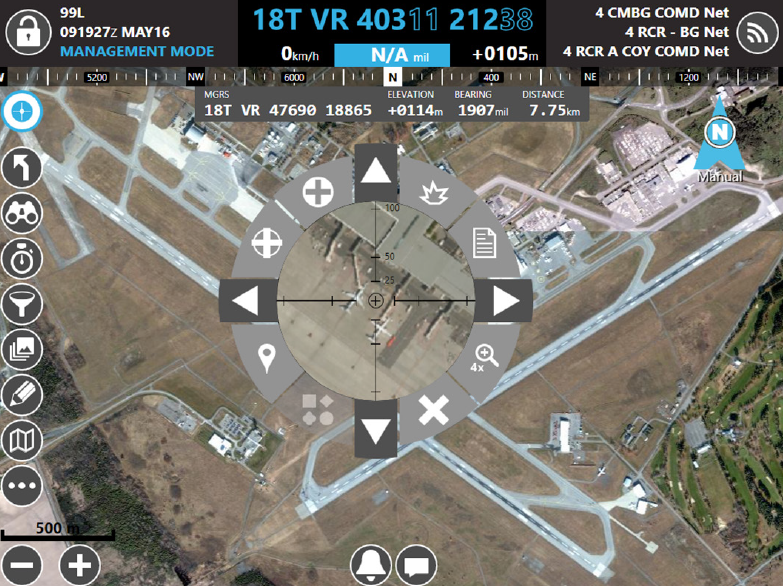 TBMS will be deployed on more than 1,000 tablets and computers to provide the Canadian Army with a faster, easier and more accurate way to create and share tactical information between fighting vehicles; critical to the success of today's missions and the ability for soldiers to quickly share information in hostile environments.
The intuitive software application solution works similar to a common smartphone application providing soldiers in the field with digital maps, friendly positional awareness, quick sketch and share functionality to highlight routes, threats or hazards, as well as simple text-chat capabilities to coordinate their actions.
FRONTLINE VALIDATION
This fall, the Capability Validation Exercise was conducted by the First Battalion, The Royal Canadian Regiment (RCR) at its base in Petawawa, Ontario. The Exercise, led by the RCR along with the ADM (Mat)/ DLCSPM Integrated Project Team, coordinated the participation of respective C4ISR industry support. The Exercise provided soon-to-be-deployed soldiers and army leaders with the ability to use TBMS as part of the larger System of Systems in the field. TBMS received a high degree of acceptance by the soldiers, validating Thales' long-standing user-focused and iterative development approach to this solution.
Thales Canada Engineer John Schreuders participated in the exercise and commented that "it was interesting to watch the soldiers use TBMS in ways we had not anticipated. Digital chat for instance, was a feature that within the first week of the exercise, I saw combat soldiers and leaders incorporating the capability into their battle procedures."
Senior Software Tester at Thales Canada, and TBMS Integration Test Lead, Jeff Corbin, echoed these observations. "Having previously been deployed as a Field Service Representative with the Canadian Army in Afghanistan in both 2009 and 2010, I was very proud to see how the RCR embraced TBMS. Seeing first-hand how they were able to use our solution within the tight confines of the LAV was a personal moment of pride for this project."
LEADING CANADIAN R&D INVESTMENT
R&D investments drive the long-term development of all Thales solutions. TBMS is a direct result of valuable R&D investments that Thales makes into its solutions in Canada. A Top 100 Canadian corporate R&D investor, Thales is powered by a dedicated Thales Research and Technology hub located right here in Canada – one of only five worldwide – it is an innovative ecosystem enabling research partnership with Canadian government, academic institutions and business developing a wide range of solutions from cybersecurity to artificial intelligence.
Since 2008, Thales has been delivering the LCSS to the Canadian Armed Forces, enabling commanders to master each of their decisive moments using real-time battlefield information, evaluate intelligence and share a common operating picture. LCSS is critical to the success that today's dynamic, complex and dangerous operations demand.
LCSS has provided more than 1,000 person-years and contributed more than 350 jobs to Canada's knowledge economy.  In addition, more than 25 subcontractors work on the program, many of them small and medium-sized enterprises. Skilled engineers support the design, development and evolution of the system and support world-class solutions to meet the evolving operational capabilities required by the Canadian Army. It has been used in operations both at home and abroad and now serves as the framework for the development of new smart city and public safety solutions.
To learn more, go here.