Approximately 60 members of the Royal Canadian Air Force's 408 Tactical Helicopter Squadron (THS), based at 3rd Canadian Division Support Base (3 CDSB) in Edmonton, Alta., departed for northern Iraq this week.
The team will assume the duties of the Tactical Aviation Detachment of Air Task Force-Iraq as part of Operation Impact – the Canadian Armed Forces' commitment to the fight against Daesh.
The squadron members are relieving members of the 430Tactical Helicopter Squadron from Valcartier, Que. The 430 THS has been providing tactical aviation support in northern Iraq since early October 2016.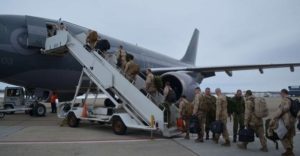 Related content
045 |CAF shifts gear in Iraq, proposed changes for RMCC, and new contracts for defence companies
US defence chief thanks Canada for boosting training, humanitarian mission in Iraq
"We provide air power that integrates with and supports our CAF and coalition partners," said Major-General Christian Drouin, commander of 1 Canadian Air Division. "The tactical helicopter detachment is a crucial component of this commitment; 430 Squadron has done a tremendous job over the past few months, maintaining a level of excellence that I know 408 Squadron will continue."
Personnel of 408 Squadron will fly and maintain up to four CH-146 Griffon helicopters, co-located with the Canadian-led Coalition Role 2 medical facility, at Camp Érable, Iraq.
Up to four CH-146 Griffon helicopters provide in-theatre tactical transport for Canadian troops and materiel near Erbil, Iraq. The aircraft carry an array of self-defence systems for force protection.
CH-146 Griffon helicopters and personnel first deployed to Op Impact in May 2016. Currently, there are four CH-146 Griffon helicopters in the theatre.
As part of Joint Task Force-Iraq, Air Task Force-Iraq contributes to coalition air operations against Daesh to improve security in Iraq and in the region.
Other air assets deployed currently with Air Task Force-Iraq are one CC-150(T) Polaris air-to-air refuelling aircraft, and up to two CP-140 Aurora intelligence, surveillance and reconnaissance aircraft, both of which are based in Kuwait.
As of April 8, 2017, Air Task Force-Iraq has conducted 2,847 sorties:
CC-150T Polaris aerial refueller conducted 707 sorties, delivering some 41,500,000 pounds of fuel to Coalition aircraft
CP-140 Aurora aircraft conducted 762 reconnaissance missions
This total includes 1378 sorties conducted by CF-18 Hornets between October 30, 2014, and February 15, 2016.