The February/March issue of Vanguard has just been released. In this issue, we have the following stories:
Super Hornet to play a key role in 21st century net-centric warfare
Body-worn cameras
Putting the human back in human performance enhancement
Arctic ports for Canadian sea power – Part 2
An opening for Canada to support emerging technology commercialisation
and a report on the C4ISR and Beyond 2017 event that was recently held in Ottawa.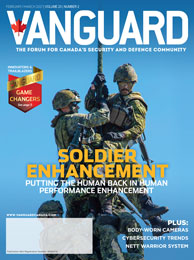 Click on the image to view this latest edition or go here.