The team at Vanguard magazine is excited to share with you the December/January 2017 issue.
Highlights in this edition include:
Canada's Fighter Replacement – What will the field look like in five years?
Cyber Security – Identifying technologies to cover vulnerabilities
Realistic Peacekeeping Options for Canada
Canada and Cyber – Time to address our cyber war capability warfare
Arctic Ports for Canadian Sea Power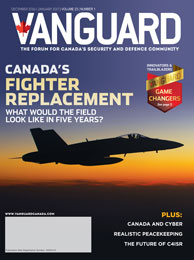 Click on the image to view the current issue or visit our Digital Edition section to see past issues.
We hope you enjoy reading this edition and welcome any feedback or comments that you may have.