The name of the Canadian Forces pilot that was killed when his CF-18 fighter jet crashed on Monday has been released. Capt. Thomas McQueen, who had served in the military for a decade, died when his jet went down on the Cold Lake Air Weapons Range on the Saskatchewan side while flying on a regular training mission.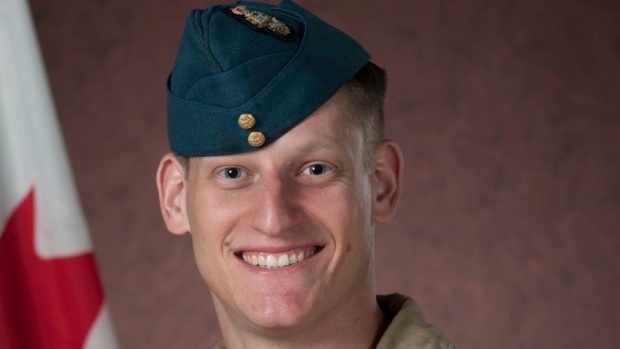 Capt. Thomas McQueen (RCAF)
Col. Paul Doyle, the commanding officer of 4 Wing Cold Lake, said at a press conference on Tuesday that Capt. McQueen who was from Hamilton, Ont. was engaged to be married and his fiancee lives in the Cold Lake area.
"I can tell you first-hand how much of an incredible person he was and that he was dedicated to the service of Canada," Doyle said. "His energy and dedication caused him to be recognized as the leader among his peers. He will be and is forever missed."
An investigation is currently underway to determine the cause of the crash. Doyle went on to add that he has, "the utmost confidence in the ability of DFS (director of flight safety) to make sure this (investigation) will not be prolonged."
Prime Minister Justin Trudeau in a statement said, "This accident is another painful reminder of the dangers that members of the Canadian Armed Forces face every day to ensure the safety and security of our citizens."
Cold Lake is known as the busiest fighter training base in Canada providing training for all Canadian Forces pilots. The air weapons range covers almost 30,000 square kilometres spanning the provinces of Alberta and Saskatchewan.
From 1982 to 1988, 138 CF-18 fighter jets were procured at a total capital cost of $4 billion dollars. Since the purchase, Canada has lost 19 jets and ten pilots.
Source: Global News