A study commissioned by aerospace company Boeing indicates that the company contributes in excess of US$ 3 billion annually  to Canada in economic benefits through its various operations and partnership in the country.
The study by management consultancy firm  Doyletech Corp., also said Boeing supports more than 17,000 jobs across Canada.
According to Boeing, the study will support the company's development of a tailored industrial engagement plan related to its offering of the F/A-18 Super Hornet fighter jet to the Royal Canadian Air Forces' C-18 fighter jet replacement program.
"Boeing has been a strong partner to Canada since 1919, and these results demonstrate the significant continued economic benefits to Canada from Boeing's long-term commitments and collaboration with Canada's aerospace industry," said Maria Lane, defense, space and security vice president of international strategic partnerships at Boeing. "This study helps to quantify Boeing's impact to Canadian industry."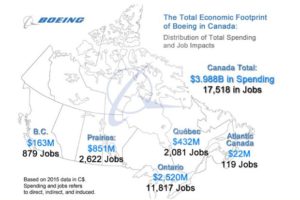 Doyletech's analysis found that Boeing's spending in Canada has grown at an average annual rate of nearly eight per cent, four times as much as the Canadian economy's growth rate, and that Boeing will contribute more than US$10 million this year toward the Canadian government's objectives in science, technology, economic evolution and growth at the province level.
Supplier partners
The report found that Boeing and its Canadian supplier partners generate $217,000 directly per worker to Canadian GDP, against $165,000 for the aerospace sector overall, and about $90,000 for the Canadian economy as a whole. This means that Boeing's industry-wide economic value in Canada is proportionally more positive than even the Canadian aerospace sector as a whole.
The Canadian aerospace sector exports about 80 per cent of its output; Boeing's principal Canadian facilities export over 95 per cent, the report said.
"Working with a country is about more than selling aircraft," said Roberto Valla, vice president of global sales for the defence, space and security operations of Boeing. "It's about creating measurable long-term partnerships across government, industry, research centers and the community."