The process for discharging military personnel who are ill or injured needs to be drastically changed so that former soldiers can be assured they receive needed medical attention and services as they transition to civilian life, according to Canada's military ombudsman.
A report on the challenges and delays faced by medically discharging CAF members was written by the office of the National Defence and Canadian Armed Forces Ombudsman earlier this year. Today, Ombudsman Gary Walbourne released a new report which once more argues  that the current system of transitioning medically discharged soldiers is "cumbersome, stressful for members and is neither user-friendly nor seamless."
"As has been well-documented over the past number of years by Parliamentary Committees, the Auditor General, and by my own office, the maze-like bureaucratic processes that are imposed upon ill or injured members of the Canadian Forces forced to leave military service, needs to change. The Prime Minister and both Defence and Veterans Affairs Ministers have said as much," Walbourne said in a statement. "I am proposing a new service delivery model that serves the ill and injured member more effectively and more humanely."
RELATED CONTENT
Complicated system blocks transition path of injured soldiers: DND Ombudsman
Veteran's losing out due to mismanagement of drug benefits
The new report calls on the Liberal government to simplify the transition process for medically realizing members of the CAF.
The Office of the Ombudsman recommends the:
Retention of ill or injured CAF members until all benefits and services from CAF, Veterans Affairs Canada (VAC) and Service Income Security Insurance Plan (SISIP) are put in place.
Establishment of a transition concierge service to act as a single point of contact for members and their families. (The UK and U.S. provide this service).
Development of a secure web portal (already done by VAC, but not DND and SISIP) single point of entry for all matters related to the transition from CAF to civilian life.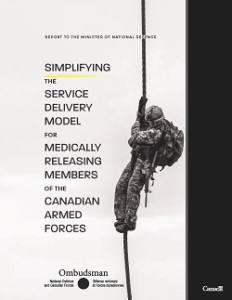 Under the existing system, wounded soldiers are given three years to recover from their injuries and return to normal duty. The defence department initiates the discharge process if the soldier is unable to recover within the period.
The process typically takes several months. However, in some cases, former soldiers are now allowed to apply for veterans benefits until they are no longer in the service. Walbourne said this delay can take up to six months.
Walbourne said his office routinely receives complaints from service members and their families about the complexity of dealing with three distinct offices – CAF, Veterans Affairs and the Service Income Security Insurance Plan (SISIP). He said all three groups operate in "separate paper-based silos," apply different eligibility criteria, and have lengthy decision timelines.
In effect, an ill or injured service member would have to deal with three separate case managers, file 21 separate applications, and navigate three different processes with different timelines. For example, the VAC informs members that a decision on their case will be released within 16 weeks of the receipt of their application.
"In short, far too many members are medically released from the military before they learn what medical or financial support, if any, they will receive," said Walbourne.