Earlier this week, Canada won praise from North Atlantic Treaty Organization (NATO) Secretary General Jen Stoltenberg for pledging to join the United States, The United Kingdom, and Germany in leading a contingent of 4,000 troops in Eastern Europe to serve as a buffer against Russian aggression in the region.
However, as Prime Minister Justine Trudeau heads for Poland Thursday for his first NATO leader's summit, he could face tough questioning on Canada's defence spending.
Latest figures from the military alliance released ahead of the summit, indicate that Canada sits in the bottom third of the list of the alliance's members when it comes to contributions to NATO.
NATO has set a defence expenditure target of two per cent of a nation's gross domestic product (GDP). Canada's defence spending last year amounted to less than one per cent of the country's GDP.
RELATED CONTENT
Canada to lead NATO forces in Eastern, Central Europe
U.S. calls on Canada to 'contribute full share' to NATO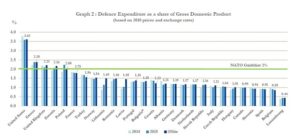 Even with a small increase this year (99 per cent of GDP from .98 per cent), Canada is no. 23 among the 28 NATO nations, slightly above Slovenia and just under Hungary.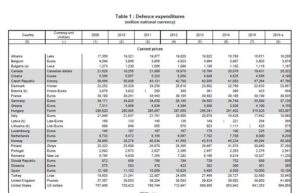 NATO figures show Canada will set aside $20.3 billion for defence in 2016, that's an increase from $19.4 billion in 2015.
During his official trip to Canada last month for the North American Leaders' Summit, U.S. President Barack Obama urged Canada to increase its commitment to NATO.
"As your ally and as your friend, let me say that we'll be more secure when every NATO member including Canada contributes its full share to our common security because the Canadian Armed Forces are really good," Obama said. "If I can borrow a phrase, the world needs more Canada. NATO needs more Canada. We need you. We need you."
Apart from Eastern Europe, the NATO nations will also be discussing the alliance's contribution of surveillance aircraft and training missions in the fight against the ISIS terror group.
While Canada is not likely to add anything new in this area, Canada might do so for operation in Afghanistan.
Canada will not be sending troops to Afghanistan, but it has been providing more than $100 million in annual funding to Afghan security forces. That funding will expire next year, but according to the Canadian Press, officials indicated that Trudeau could give an announcement on the matter in Poland.
Read the latest issue of the Vanguard Magazine, click on the image below: