With a growing portfolio, Lockheed Martin Canada, last year, moved to build another facility in Kanata, Ont., to accommodate the ramp up in its research and development activity.
On Tuesday, the defence contractor  marked the formal opening of its latest IMPACT Centre.
Work inside the energy and eco-friendly facility will initially focus on naval systems, according to Lockheed. Work in the centre will be targeted at meeting Canada's need for the Canadian Surface Combatant programme, as well as other international opportunities.
"The IMPACT Centre is part of Lockheed Martin Canada's latest initiative to invest in state-of-the-art facilities and infrastructure across Canada to accelerate technology development and promote a thriving culture of innovation," according to a statement from the company. "It is designed to be a significant economic driver across Canada – bringing Canadian industry and academia together for critical research, development, and advancement of innovative technologies."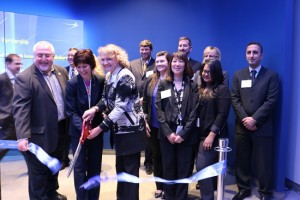 RELATED CONTENT
Students to help Lockheed design Ottawa innovation centre
"There were three different but related activities and efforts that were the catalyst for creating a centre that would facilitate exploring new technologies, performing early risk reduction type of integration and enable collaboration between industry & government sectors," according to Rosemary Chapdelaine, vice -president and general manager at Lockheed Martin Canada MST.
The first was the HCM programme where Lockheed developed its CMS that the firm leveraged into two  subsequent naval surface platforms,  AOPS and NZ ANZAC.
"We found that the core CMS solution was designed to maximise commonality with these new customers and projects as well as a high degree of flexibility to integrate new sensors and systems tailored for their operations," said Chapdelaine. "Each of these efforts was done individually and we thought there would be greater efficiencies if we had a central location for conducting these design and integration aspects."
With the win of the NZ ANZAC Frigate, Lockheed Martin Canada has become a prominent player in the area of naval surface ship CMS. The company is now actively working two major proposals: Chile and Romania.
The third factor focuses on economic impact, growth, and sustainability.
"With the new focus of the government in ITBs, our plan is to adopt a strategic view regarding investments in our R&D as well as investments and engagement we will have going forward with SMEs," said Chapdelaine.
During the event, some of Lockheed Martin's partners showcased their technology and local students demonstrated their robotics projects.
The IMPACT Centre's first engagement with local educational institutions enlisted third and fourth-year design students at Algonquin College in a competition to come up with an inventive design concept for the centre.
The teams presented their creative ideas to Lockheed Martin Canada in January, and the winning concept was unveiled at the grand opening event.