For nearly 100 years, Canada's National Research Council (NRC) has built a reputation as a results-focused R&D performer. NRC's experts are now using this experience and knowledge to provide engineering solutions for one of the world's most extreme environments.
Canada's Arctic offers some of today's most difficult challenges with close to four million square kilometers of ice-covered land and water.
With burgeoning industries such as mining, tourism, commercial fishing and oil and gas, opportunities–although vast—prove to be difficult to develop. The National Research Council has taken an active role in identifying solutions for these challenges. As Canada's go-to research and technology organization, NRC is focusing on the development of technologies to ensure sustainable and low-impact development of the North while also increasing the quality of life for Northerners through more reliable and relevant infrastructure.
With over 60 years of research on Arctic-related technologies, NRC is also working with industry to improve petroleum development by optimizing ice management, investigating ice loads on offshore structures, developing oil spill solutions and improving the performance of life-saving appliances (LSA) for its extreme and remote environment. These technologies will also result in safer and more efficient shipping and northern transportation operations in the Arctic.
Marine safety expertise
Every day, in Canada and throughout the world, people work or travel over open water, exposing them to the unique risks and hazards associated with this powerful element. These risks can result in costly accidents that may lead to disruptions in working operations or worse – injuries and fatalities. By investigating the hazards associated with marine operations from an engineering and human factors perspective, NRC is helping to advance marine safety by challenging and updating existing regulations.
The National Research Council has introduced and implemented software such as the iceberg drift and pressured ice systems to help ship operators safely navigate the dangerous ice-covered waters of the Arctic. Until 2011, no reliable method was available to predict these treacherous regions, putting ships at risk of being stranded in harsh climates from anywhere for a few hours to a couple of weeks. This has been a major issue, especially when you consider the need for quick rescue operations when accidents occur in this extremely cold and hazardous environment.
NRC has since become a pioneer in the development of high-resolution ice forecasting in Canada's Arctic. Research was aimed at developing specific characterizations of pressured ice, and quantifying the ability of ships to navigate in such conditions. The result, the pressured ice model, is now being used by organizations that have major operations in the Arctic, including the Canadian Coast Guard.
NRC is also working diligently to evaluate life-saving appliances (LSA) in real-world environments to ensure they perform as expected and provide suggested design upgrades if they do not.
There are two key LSA items that are vital to the safety and successful rescue of people during a marine emergency – lifeboats and immersion suits.
A variety of lifeboats are used by offshore organizations to allow people to safely evacuate from shipping vessels or offshore structures in an emergency in order to reach safety or to remain warm and dry while they await rescue. Previous engineering work by NRC has highlighted the performance capabilities and limitations of lifeboats through a series of model and full-scale tests. These tests have resulted in suggested improvements for the future design of lifeboats to increase their performance in ice fields and improve the interior environment for the occupants.
Immersion suits are ubiquitous equipment found on many seagoing vessels and structures. Regulations mandate that they be available in sufficient quantity so that every person on board has access to one. Through a series of human factor-based studies, the National Research Council investigated the discrepancy in performance of immersion suits between what is often measured in calm, controlled laboratory conditions and those seen in real world environments, which often include strong wind and waves. Through this work, NRC was able to demonstrate the need for testing in "real world" conditions and helped influence change in the Canadian standards that govern immersion suits.
Numerical modeling for ice environments
Recently, the National Research Council has begun a study to gain a better understanding of the range of operational and extreme conditions at several sites in the upper Saguenay Fjord in Quebec.
The Saguenay Fjord is approximately 110 km long and stretches between the communities of Chicoutimi, located 60 km below Lac Saint-Jean where the fjord transitions to the Saguenay River, and Tadoussac, where the fjord meets the St Lawrence River Estuary.
During winter, solid ice forms over the upper part of the fjord. Commercial ships needing access to port facilities further upstream are escorted by ice breaking vessels operated by the Canadian Coast Guard. Most years around mid-March, the ice weakens, breaks apart and is swept downstream with ice breaking vessels deployed during this time to assist with clearing operations.
The Saguenay Port Authority currently operates the Grande-Anse Marine Terminal which handles tonnage consisting of wood pulp, paper, de-icing salt, caustic soda, liquid tar, and general cargo. Its isolation from the urban area makes it a popular site for major industries.
There are new developments occurring along the fjord as well.
To support these developments, NRC is investigating, by means of numerical simulations, the local winds, surface currents, ice conditions, and ice behaviour at three sites. The results of the study will be used to support the planning, design and operation of facilities at each location. Further, the innovative methods developed in this important research can then be applied to assess metocean conditions in other sites in the Arctic.
Innovative cleanup solutions for industry
As expeditions and growth in the Arctic intensify, industry will face many challenges including the environmental impact of developments in the North.
A major consideration for industry is the potential for hazardous fuel leaks and oil spills. While remediation technologies have advanced over the years, deploying these technologies in Canada's northern region remains a daunting challenge.
In 2006, the Canadian Forces Station (CFS) Alert ‑ the northernmost permanently inhabited settlement in the world ‑ suffered a serious fuel line break causing 22,000 litres of diesel to leak into the surrounding soil.
With a ten-year track record of partnering on the development of remediation activities, the Department of National Defence (DND) quickly enlisted the help of the National Research Council to collaborate on a solution.
With a diesel concentration in the soil of over 2000 parts per million (ppm) ‑ almost 800 % above the 260 ppm allowed by federal guidelines ‑ NRC employed a technique known as "bioremediation" which uses naturally occurring microorganisms in the soil to break down the diesel contamination into less toxic or non-toxic substances. Although typically lengthier than other methods, the bioremediation process is less disruptive to the environment and does not require the use of additional off-site resources.
Find other engaging content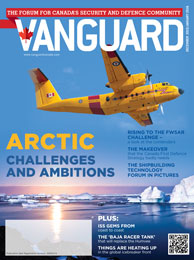 in the Dec-Jan 2016 issue of Vanguard Digital. Click here.
Six years later, ingenuity coupled with patience proved to be a winning combination as the diesel concentration in the contaminated soil has dropped to an acceptable average concentration of less than 260 ppm.
World class facilities and expertise
Much of NRC's research related to the Arctic environment is developed in its world class facilities in both Ottawa, Ontario and St. John's, Newfoundland and Labrador.
With a usable ice sheet of 76 X 12 m, NRC's St. John's ice tank is one of the largest facilities of its type in the world growing ice 2.5 mm per hour to a maximum thickness of 200 mm. All types of ice conditions can be produced, from grey ice to multi-year ice as well as drifting pack ice, ice ridges, glacial and multiyear ice, bergy bits and growlers, among others.
The 21 X 7 m Ottawa ice tank has a varied temperature ranging down to -20°C, easily accommodating a wave machine, producing the ice conditions expected while traveling in northern waters. It also provides vital testing to help detect, monitor and mitigate oil spills in Arctic conditions.
Through these world-class facilities and thanks to a multidisciplinary approach, the National Research Council will continue to improve technologies like NRC's pressured ice model, vital equipment like LSAs and the design of structures like ports and harbours, to ensure that the Arctic is a safe place to live and to work