In the frigid temperatures of the Arctic, a stranded person exposed to the elements may only have a few precious hours or even less to survive. In calm conditions at -29 C a well-clothed may be relatively safe, but a light breeze of just 40kph can easily make it feel more like -66 C and pose a severe danger to exposed flesh within seconds.
"That's why every second counts. A few minutes could mean the difference between life and death," says Dr. George Leblanc, a research officer  for airborne research, aerospace at the National Research Council of Canada. "But is search and rescue teams can quickly determine which way to go, that could tip the odds in favour of a lost snowmobiler or a stranded hunter."
Through most of his career, Leblanc has been involved in conducting airborne geophysical, environment and defense projects from initiation to data analysis. Over the past 13 years, he had led the NRC's airborne hyperspectral imaging research.
SAR and military potentials
Leblanc and his fellow researchers believe they may have stumbled upon (or in this case, flew into) a much-ignored phenomena that could have critical importance to SAR and Department of National Defence operations.
For centuries, native hunters and trackers have mastered the art of discerning the paths taken by animals and people by "reading" the imprints left by their quarry on the ground or snow.
Leblanc and his team believe they can apply the same principle to aide airborne searchers identify minute patterns in "disturbed snow" from the air to determine the movement of humans and vehicles. To accomplish this, searchers will need to rely on a hyperspectral imager, a device that collects and processes information from across the electromagnetic spectrum. The goal of hyperspectral imaging is to gather the spectrum of each pixel in the image of a scene in order to find objects, identify materials or detect processes.
The research is at the very early stages. In fact, the team is still looking for funding. However, the researchers are convinced the detection of disturbed snow will be very useful in several applications:
Search and Rescue
Avalanche prediction
Arctic mammal winter feeding analysis
Military applications
If proven effective, their method could have a tremendous impact on how the military, SAR teams, and scientific researchers conduct their operations.
For example, said LeBlanc, stranded or lost snowmobilers account for nearly 80 per cent of SAR calls.
"But rescuers can't just blindly follow snowmobile tracks in the snow because you're bound to come across dozens of them in a given area," he said. "Following the wrong track could be disastrous."
But if rescuers had a way of discerning which tracks are more recent or which ones correspond with the time that person in trouble was on the trail, rescuers could have an advantage.
Similarly, Canadian troops could use hyperspectral imaging technology to detect potential incursion into our territory in the Arctic or other areas where there is snow.
The method can also aid scientific researchers in tracking things such as wildlife migration, breeding and feeding patterns.
How it all began
How Leblanc and his co-researchers came up with the idea of using disturb snow was a story in itself.
The senior research officer and his companions were in an aircraft flying over a snow-covered expanse just outside Quebec City as part of a research mission totally unrelated to disturbed snow. Inside the plane, the researchers trained their hyperspectral imager on the snow below.
The human eye discerns the colour of visible light in mostly three bands – red, green and blue. The spectral imager divides the spectrum into many more bands and sees in different wavelengths.
Back in the lab, when they reviewed the images they took, the researchers discovered that the snow had registered what Leblanc described as "nice big linear anomalies in the data."
Subsequent investigations revealed the "anomalies," which appeared as red lines, were actually tracks in the snow.
This was when it dawned on them they were onto something. The infrared lines could hold the clue as to whether tracks have been in the snow for several days or if they are a more recent disturbance.
Studying snow disturbance is nothing new and has in fact been around for centuries if not thousands of years. If searchers can look view tracks from the air they could cover a bigger area in a shorter period of time. However, detecting tracks from the air is difficult since various factors such as weather, angle of view and type of snow come into play.
"While most applications of disturbed snow have focused primarily on the issue of disturbed vs. non-disturbed snow, in our work we have focused on the subject of qualitatively identifying recently vs. non-recently disturbed snow within the range of the shortwave infrared (SWIR)," said Leblanc.
Spectral imaging has the potential to shorten the time it takes for searchers to determine which tracks to investigate.
Find other engaging content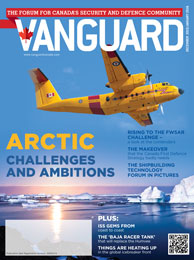 in the Dec-Jan 2016 issue of Vanguard Digital. Click here.
"There are several advantages that this approach has, namely, when there is a time-critical component (such as in SAR activities) where we would be looking to identify recently disturbed snow as opposed to snow that had been disturbed at some time well-prior to the search," said Leblanc.
The method can also be used in conjunction with current drone technology so that searches can be conducted remotely employing unmanned autonomous vehicles (AUVs).
Developing operational application
The NRC team is now gearing up to expand their research.
The winter has been mild so far, but hopefully, January will bring in more snow. By then the team expects to launch both manned and unmanned aircraft over the fields around Ottawa. They will be looking for further indicators that this new method of observing disturbed snow has practical operational potentials.
The key to this is being able to establish metrics that can be used to judge the time differences around snow disturbance as well as changes in the snow caused by different types of disturbances.
By establishing these parameters, the researchers hope to be able to determine the difference between tracks that have been left from several days ago from those that were made about an hour ago.
The characteristics of snow also change depending on the size, weight and type of object moving it. For example, when people walk over snow we tend to transform the snow grains from something that is "snow-like" to something more "ice-like."
The different grain sizes of snow reflect different wavelengths of light which the hyperspectral imager can detect.
"Our ultimate goal is to develop this up to the point that it is operational," said Leblanc.