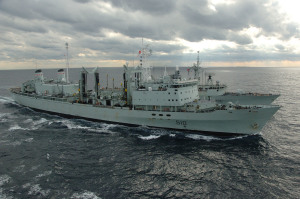 Government representatives will begin discussions today with Chantier Davie Canada to seek agreement on an interim solution for a support ship for the Royal Canadian Navy.
With the retirement of the Protecteur-class of at-sea replenishment ships last fall and the completion of the first new Queenston-class Joint Support Ship not expected until 2021, the RCN has a capability gap in sustaining lengthy operations and providing support to naval task groups.
At a press conference in Ottawa yesterday, Defence Minister Jason Kenney said the Department of National Defence had set up an office to "pursue the provision of a service contract for a supply ship. These discussion will help determine if Davie can provide an interim solution at a cost, time and level of capability that is acceptable to the [navy]."
Without at-sea replenishment, the RCN has had to rely on allies and more frequent port visits to sustain its frigates for lengthier missions such as Operation Reassurance in support of NATO operations in the North Atlantic, Mediterranean and Arabian seas.
Kenney said the RCN would be seeking to "bridge the gap" by obtaining a modified commercial ship refitted for military use. It would not, however, be deployed in high risk situations. "This solution would allow the RCN to operate more freely around the world while also keep our crews' skills up to date in anticipation of the arrival of the new permanent, more robust joint support ship."
He said consultations had been held with industry and several shipbuilders had expressed interest, but the government had opted to pursue negotiations with a single shipyard in order to avoid getting "bogged down in [a] competitive process that sometimes has taken years. We don't have years."
He noted that Davie has already done considerable preparatory work on an interim solution, but a number of navy requirements still needed to be negotiated, as well as cost, schedule and the exact functions of all parties involved.
"We think there is real potential in the Davie proposal," he said.
Reporters quickly zeroed in on the timing of the announcement, wondering why the government wasn't announcing a contract rather than the start of discussions when both the Quebec government and Davie have been pushing for an agreement for months and the need to fill the gap was well known as of last fall when the navy pulled the last Auxiliary Oil Replenishment ships from service.
Kenney insisted the announcement had nothing to do with the upcoming federal election, expected in October, and said government officials has been instructed to conclude the negotiations "as soon as possible."
"We are not trying to make political capital off this," he said, noting that the focus on a single shipyard in Quebec rather than an open competition was primarily because both Irving Shipbuilding in Halifax and Seaspan in Vancouver already have large national shipbuilding projects underway with firm deadlines and would have less flexibility to take on another project.